YouTuber and model Joey Gentile is quite exposed on social media – literally. However, that – and the fact that he's terribly good-looking – means he gets some of the creepiest messages on Grindr… and the same can be said for his buddy Ben Butler.
So the two of them sat down together for a video – where they read some of those crazy messages out loud.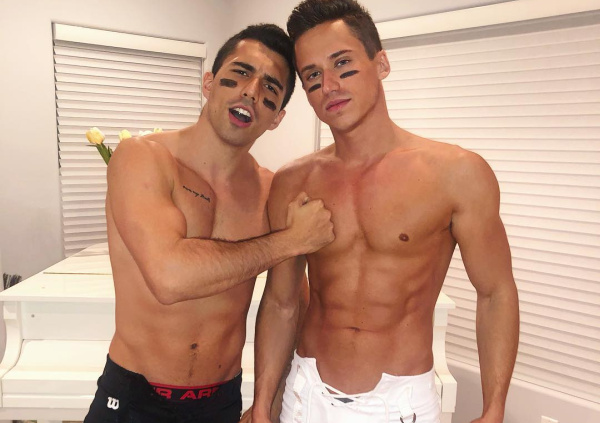 Joey Gentile is a popular 25-year-old YouTuber and social media star. He's never shy about showing… a lot of himself, or telling stories about crazy things that seem to happen to him – like an Uber driver that tried to have sex with him.
Ben Butler is an up and coming YouTuber, who, well, looks like this:
So, with Grindr already being a weird place, can you imagine what it looks like for these two? No need to imagine – as they read some of the weird messages they received.
It starts off fairly tame, with a message saying "In order to have sex, I will give you $2,000."
But then it moves on to things like…
"I'll pay you 10k to clean my house wearing a g-string and heels. I'll throw in an extra 5k if I can film it and another couple thousand to let me and all my friends circle jerk on you… We can make this a regular thing if you'd like."
And then there are scary message likes "Blow me or die", and even – "I see you through your window, you boys are so sexy. Can you open the curtain and give me a show?"
See it all right here: