Some remember Joe Jonas as part of The Jonas Brothers, while others remember him as Nick Jonas' older brother, or as the lead singer of DNCE. But once you see his new ad for Guess, you'll probably remember him as a hunk who looks amazing in his underwear.
Now, he also explains how he got there – and what he does differently than brother Nick.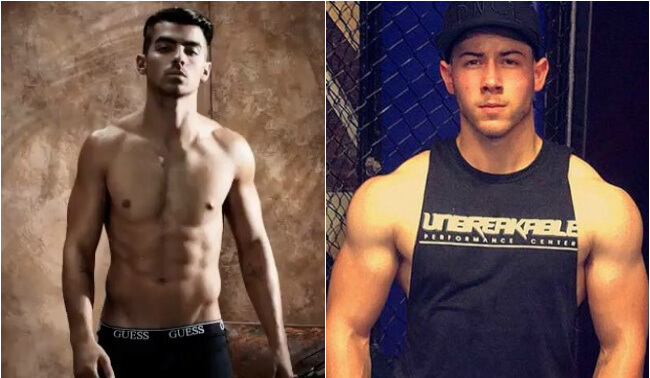 When Joe, 27, got the message that he was going to strip down for an Underwear ad, he tells US Weekly, the first thing he did was stop eating cake. The second thing he did, though, was eat lots of pasta and drink lots of beer – before having to stop all that and spend lots of hours at the gym.
"Once I said yes, we were like, 'It's the last meal' and we just went crazy. I had a lot of pasta and a lot of beer, because I didn't have any beer during the training process."
Joe also talked about his days at the gym – which he spent with brother Nick. (Something he's used to doing, as in the past he also talked about going with Nick Jonas to… gay clubs)
"Nick is always in the gym. He lifts heavy weight and I never really did that. He's that guy who screams at the gym with his cut-off sleeves. I'm just like, 'OK, cool bro.'"
While doing the underwear photoshoot, Joe had to stand around in a studio in his underwear all day – "an awkward" experience, he says. But you can watch the result right here…
And here's a look at the training part –