With all the progress we've made, homophobia is still very much out there. And while sometimes speaking up can be dangerous, it's often the right thing to do – and sometimes, you get heart-warming help from the people around you.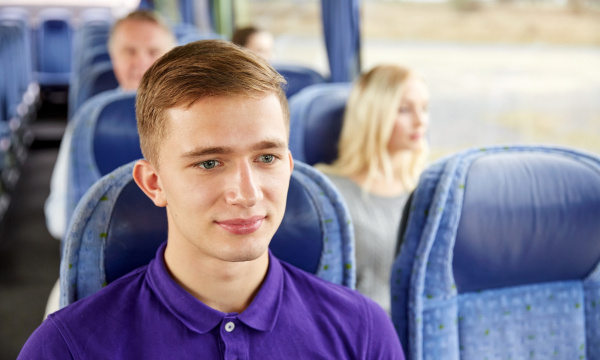 This happened to this guy on Reddit, who was simply going back home by bus – when everything started going haywire, due to one horrible man.
"Not a minute into my commute this man, we'll call him Cane, starts harrumphing and thumbing his cane on the ground clearly upset by the woman seated across from him speaking on the phone.

Then the drivel starts; "Go back to your country, this is America, learn English, stop speaking that junk, you're on the phone you're supposed to be quiet, shut up", while also mocking her tongue with gibberish noises.

At this point I'm floored, repressing that odd bit of shyness you get in these situations I simply tell the man "Hey, leave her alone, she is on the phone please be respectful."

He did NOT like that. His face turned red as all of his attention focused onto me and he began to throw insults at me. Which I'm fine with, it doesn't bother me.

Then he called me a "fucking faggot" which rose the woman next to me, we'll call her Doc on account of her boots, to raise her voice above him and told him to where he can shove it.

This brought the bus driver back who threatened to kick him off the bus and so Cane then promises "I'll be a good boy, sir".

This lasts all of one bus stop. Which in the mean time two other woman (the younger Frida – on account of her sick Frida Kahlo pin and the older Candi – you'll find out later) came to sit next to Doc and I.

So Cane starts up again saying we're stupid kids with our headphones, etc…. Then he runs out of his supply of insults so decides to revisit Faggot.

This time, I simply retort "Yeah, and I'm fucking proud of it." This was followed by cheers and snaps in the bus in addition to Frida and Doc exclaiming me too. High five galore.

Now surrounded by my heroic femme fatale, I can't help but smile. Cane continues so Frida gets up and blocks him from seeing me. (So sweet)

He then gets louder and hollers "Hey faggot, I'm getting off in a few stops, want to get off? You WON'T be getting back on." With this I've had a enough so I call to the bus driver to tell him this man is physically threatening me.

Our glorious bus driver stops the bus and tells him to get off, surprisingly Cane refuses. So transit authority is called and we're stuck for 30 minutes.

The lady seated in front of us (she doesn't deserve a nickname) decides to educate us that if you ignore him he'll stop. I politely disagree saying that if someone is being assaulted it's a moral obligation to stand up to it.

So in conclusion. Transit authority shows up gets Cane's crotchety ass off the bus and we continue on our gay way. Frida, Doc, and I were all going to target to get that after valentines chocolate.

So as the three of us are getting off Candi stops me to say you don't deserve that, but you did a brave thing. Patting my shoulder she slipped a purple live safer into my pocket.

So in the end, I just want to say stand up for those who need it. Those who share the true American values will always have your back.

Also a special thanks to my gay bros Doc, Frida, and Candi. Beautiful people all of y'all

You too bus driver. I see you.