Here's something you wouldn't expect from a gay porn star – to not have any experience with sex toys. But somehow, Trevor Harris managed to go through life without even trying them. So… Davey Wavey to the rescue, and on YouTube of all places.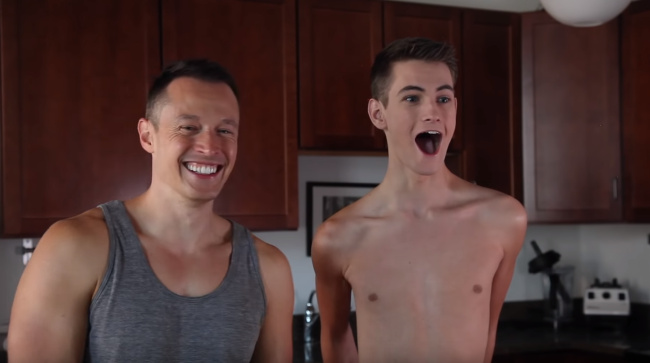 This is the second time the popular gay YouTuber breaks gay twink porn star Trevor Harris' cherry. Last time, he gave Trevor his first prostate massage… and this time, they give some sex toys a try.
As you probably know, Davey also has his very own gay porn/erotica/sex education website – Himeros.TV – so he's familiar with the subject matter. In the past, Davey helped us discover sex pleasure points on the male body, as well as give us some sex tips from him and gay porn star Blake Mitchell.
When Trevor admits he's nervous, Davey calms him down. "This is about experiencing pleasure. If you're not getting pleasure, then this is not the toy for you."
"I feel like a dick is the best thing, so…", Trevor says. But Davey reminds him that we don't all have "cute boyfriends, like the one you have waiting in the other room."
https://www.instagram.com/p/By8yf0WH7ux/
They start with Nipple Suckers, and Trevor says "that's not bad."
They continue with a smart-phone connected dildo ("It tickles"), an anal wand ("Yeah, I'm feeling something up there… this is nice…") and more.
If you want to see more of Trevor Harris, you can find him on Helix Studios' 8TeenBoys site, or on his Onlyfans page. And Davey is waiting for you on Himeros, where you can get 3 free months with this link.
Now watch the full video: