There are two things that surprised us about the video you're about to watch. First, it's a gay porn star getting his first ever prostate massage. Is that possible? Yes, apparently…
Also, we get to watch him getting said massage on… YouTube. Yep, conservative ole' YouTube. What's next, fisting on Facebook Live? We can only wish… but let's enjoy it while we can.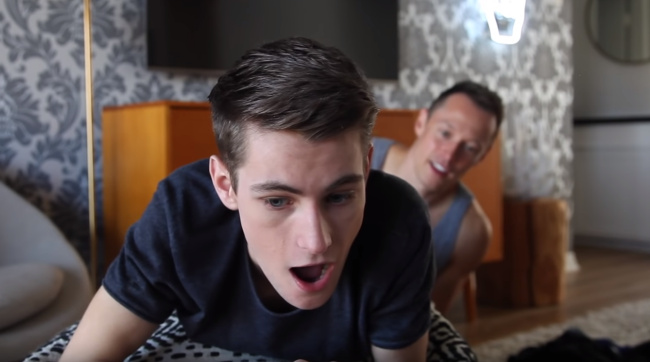 This prostate massage was brought to us by none other than popular gay YouTuber Davey Wavey.
As you might know, Davey also has his very own gay porn/erotica/sex education website – Himeros.TV – so the subject matter is right up his alley. With some of his recent videos, Davey helped us discover sex pleasure points on the male body, as well as give us some sex tips from him and gay porn star Blake Mitchell.
This time, Davey is joined by gay porn star Trevor Harris, who – despite his porn expertise – has never gotten a proper prostate massage. Davey to the rescue, then.
Together, they get to watch an instructional – and much more explicit – prostate massage video Davey filmed for Himeros.TV, while at the same time, Davey gets behind Trevor, and starts doing his thing…
"Oh wow… that feels… that tickles. It literally feels like an orgasm."
In fact, it feels so good, that Trevor has a little "accident". On YouTube. "I should have warned you…"
If you want to see Davey's explicit tutorial on giving a prostate massage, with two more porn stars, head on over to Himeros.TV – they're running a limited time sale now, where you get 3 FREE months. 
And if you want to see more of Trevor Harris, you can find him on Helix Studios' 8TeenBoys site, or on his Onlyfans page.
But first, check out their YouTube video right here: