Colton Haynes and his fiancé, Hollywood florist Jeff Leatham, are certainly adorable together, and very much in love. So it was fun to see Colton's latest photo, showing the two having some fun… at the pool.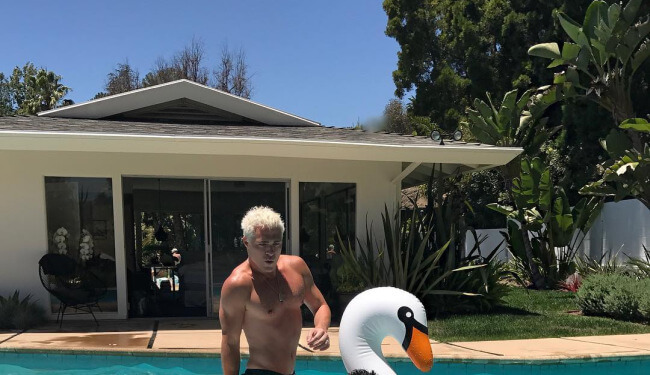 It all started earlier this month, when Colton adopted a new swan. A pool swan, that is. There it is (try to look at the swan, and not just at Colton's marvellous body) –
https://www.instagram.com/p/BU7x6CwDICm/
But what's the point of having a pool swan, if you're alone on it?

That was the case when Jeff was away… but when he finally got back home – the two were able to ride the swan, together (no pun intended. They did really ride the pool swan) –
https://www.instagram.com/p/BVxrJj7D8Bo/?taken-by=coltonlhaynes
That's our favourite lazy Sunday activity as well (if we had a swan. Or a pool).
And while we're at it, here are a few other adorable photos of the engaged couple:
https://www.instagram.com/p/BUUwITtj91-/?taken-by=coltonlhaynes
With Celine Dione –
https://www.instagram.com/p/BT64-wLjjPr/?taken-by=coltonlhaynes
And some Star Wars fun in bed (no euphemisms there!)
https://www.instagram.com/p/BTsevNvDyxs/?taken-by=coltonlhaynes