So we've seen Riverdale star KJ Apa say he "would love" a relationship between Archie and Casey Cott's character, Kevin. We've also seen Casey Cott lick KJ's ear, because why not. And now? Now a topless KJ is Casey's "muse". How did that happen? Well, all is not as it seems…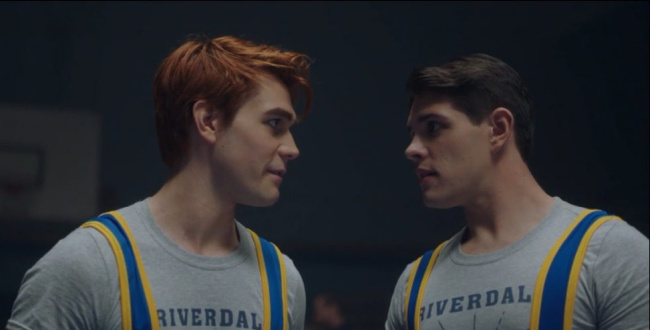 This whole thing started with none other than Cole Sprouse – who is apparently dating (in real life) his series co-star, Lili Reinhart.
Lili was celebrating her 22nd birthday this week – and to commemorate that, Cole took to Instagram with a nude photo of her, and the caption – "Both the birthday and the gift. My little muse, happy birthday my love" –
https://www.instagram.com/p/BnriRFaH346/?taken-by=colesprouse
Then, his hot co-stars – KJ and Kevin – decided to spoof that post, this time with KJ as the not-naked-enough object of love and muse. Observe:
And while we're at it – Riverdale is coming back for Season 3 next month, and you know what that means – plenty of hot moments to spend with KJ's six-pack, which is getting better and better each year.
"A" is for Archie Andrews, already in training for fall football season. Only 47 days until #Riverdale returns… pic.twitter.com/Z0fRv7XzH1

— RobertoAguirreSacasa (@WriterRAS) August 24, 2018
And here's a photo from the upcoming season. Don't forget to breathe.