Bisexuality doesn't have anything to do with cheating – it doesn't matter WHO you're cheating with. Still, a gay American man recently found out his husband was cheating on him with a woman – and was then ASKED for permission to keep doing it.
Things got even more complicated when it turned out the cheating guy was rich. Very rich.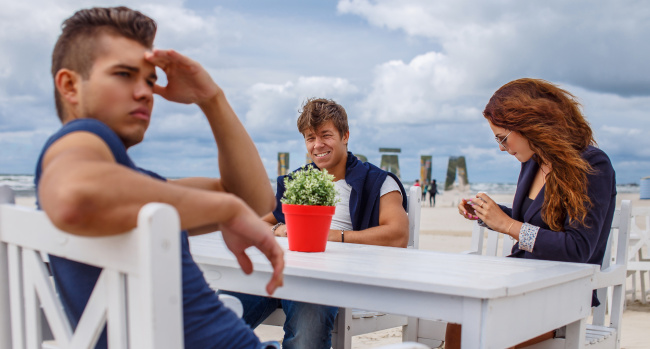 This all happened to this guy on Reddit, who came to ask for advice after finding out his bisexual husband was involved with a woman.
"I'm a gay guy in my late 20s married to a guy in his mid-40s who identifies as bi", he writes. "He was married to a woman before me and has a child. We've been married for 4 years and everything's been pretty good."
Until…
A couple weeks ago he told me that he was involved with a woman he met through his work.

This was absolutely devastating for me but I was able to work through it for the past few weeks with his promise that it wouldn't happen again.

Recently he told me that he wants to open up our marriage so that he can see women sexually to fulfill that part of his sexuality but doesn't want me to sleep with anyone else.

This is pretty rough for me to hear and at this point, it looks like if I don't allow him this he will leave me.

I'm embarrassed to admit on here but I haven't been working since we started dating and rely on him financially, I don't know how easy it will be for me to get back into the corporate world with a 6-year gap in my resume at my age.

We have a prenup that says if he cheats I get yearly spousal support which would generously cover my rent and car so I would have time to get back on my feet. However I don't actually want to leave him, I was imagining kids and shit with him but all that's coming down on me now 🙁
Following some advice from the commenters, the guy decided to call his lawyer and check his options. Then he came back with an update.
The lawyer said the prenup has a morality clause and since he cheated I can take half of everything he owns, but I don't want to take millions from him.

My lawyer informed him of the situation and me, he and the lawyers sat down today.

The morality clause came up and just to make sure I don't sue him for everything, he's offered to let me keep my car, give me a large lump sum of money in cash and transfer his secondary penthouse in Tribeca to my name. Not even close to half of what he has but its better than the prenup.

I'm gonna give myself a week and start to apply for jobs. The toughest part is that he's gonna keep the dog 🙁