Sometimes it feels like these incidents of "straight" buddies who want to have gay sex are all fun and games. And true, sometimes they CAN be fun – but things aren't always as easy as they sound, and life is not always the plot of a porn film.
And when a straight, MARRIED friend approaches you aggressively for sex – what do you do?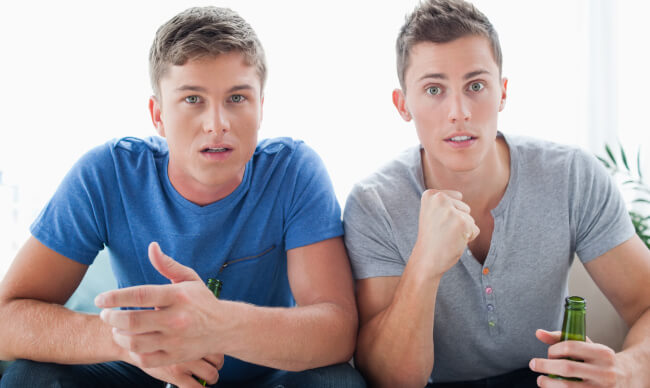 That's what happened to this guy on Reddit. He has a boyfriend, but that (or the wife) didn't stop his friend from coming up with a strange proposition.
"My straight friend is very masculine", the man writes. "He has no problem with gay people and he's very liberal. But, knowing I have a boyfriend and he's MARRIED to a woman for a year now, he wants me to fuck him. He wanted me to keep it a secret and he says he'll dress as a "sissy"…
It all started when the two were home alone one day.
"One day, him and I were just chilling/drinking on my couch. Then he started rubbing his hand towards my groin while I was watching TV…

My heart dropped and I gasped/yelled out "What are you doing?!". He started to change his tone of voice like a feminine guy and just was begging for me to 'fuck his little clit'.

I was shocked and I just moved across the room to think and he kept following me every move I made.

He approached me with tears in his eyes talking about how he's tired of putting up a masculine persona and how he wants to be fucked in the ass. He states he is straight but just wants to get fucked by someone. He wants his girl to peg him every night and just 'be himself' during sex.

I told him to leave my house with no follow up so I could think. I have nothing and I haven't told my boyfriend yet.

Should he tell his girlfriend to peg him? Should I tell my boyfriend that my friend touched me inappropriately? Should I just not be his friend? I need help."
The Redditors were quite helpful, with one commenter summing it all up:
"You need to tell your BF immediately, the longer you keep this incident from him the worse it'll be when he finds out. People who think they can handle situations like this on their own quickly realize how wrong they are.

After telling your BF you need to tell your friend that you don't appreciate his advances and that he needs to discuss how to satisfy his needs with his wife."