If you've been following these pages, you might already know sexy YouTuber AbsolutelyBlake. Well – Surprise – Blake has a hot flatmate, and they both played a strip version of Pictionary on YouTube. Got your attention yet?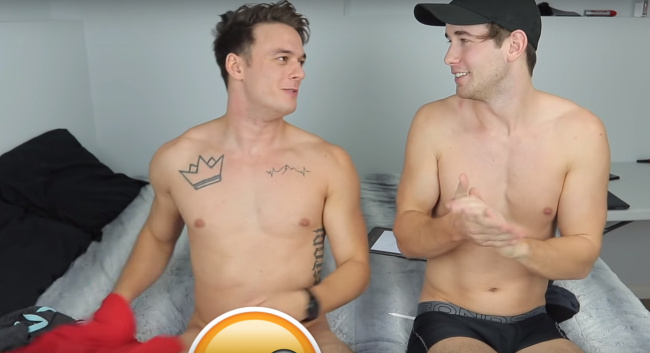 Blake is a popular Canadian YouTuber (136,000 followers and counting – and he even has his own merch line now!), who not only does raunchy things on his videos, but also tends to get naked on Instagram. Like, a lot.
Living with Jordan means they do a lot of videos together – and this time, they play a game of Pictionary, where each of them has to draw certain things requested by fans – sometimes with a blindfold on, with their mouth – etc' – and the one who draws the worst version has to take something off.
Luckily for us, they're not wearing much – just a shirt, pants, boxers and socks. Luckily for us 2, they're not very good at this drawing thing, so they start losing clothes pretty quickly.
Enjoy, and don't miss Blake's stare at the moment Jordan takes his shirt off: