A year ago, we were moved by Zach and Evan's "Promposal" video, in which Evan surprised Zach with an invitation to a prom for grownups, making up for the missing prom from their high-school years.
A year later, Zach surprised Evan yet again – this time with a marriage proposal, over a magical background filled with flying paper lanterns, during the Lantern Festival.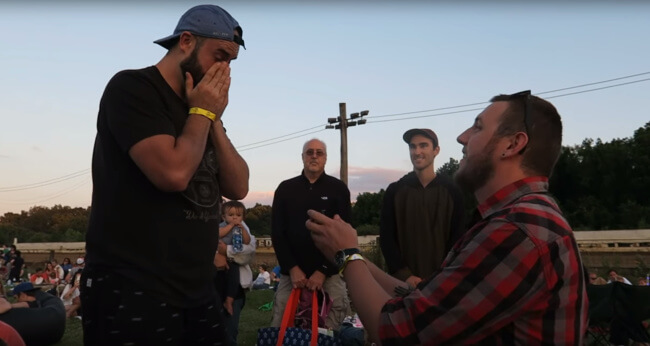 Evan Campbell and Zach Ambrose couldn't agree on who would be the one to eventually propose – so they made a pact they would BOTH propose at some point or another.
Evan decided he would surprise Zach by being the first one. He picked the most romantic location – the Lantern Fest in Pittsburgh, where more than 5,000 people gathered for the release of several thousand flying paper lanterns.
Evan called Zach's parents and asked permission to propose, called his own parents, and then started the planning.
When the day finally arrived, Zach didn't even know where they were going, let alone that a ring was waiting for him… With family and friends around them, the final proposal won't leave your eyes dry: