Tom Daley, the openly gay Olympic medalist, has an impressive body – but he's also a bit small. Especially when compared to the "World's Strongest Man" – which brought on an amusing feat of strength, with Tom being lifted up in the air on one arm…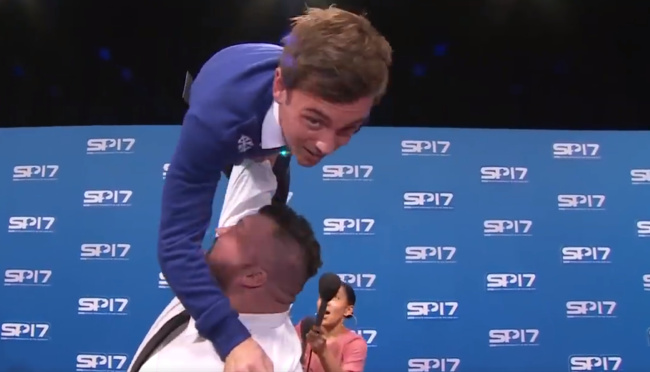 23-year-old Tom Daley is not just an Olympic diver, but also has a popular YouTube channel – and is occasionally a TV personality.
Last weekend, the BBC hosted their "Sports Personality of the Year" event, where various individuals from the world of sports received awards – and among them, The World's Strongest Man.
Tom Daley was one of the Red Carpet hosts for the BBC, and when the current champion of the World's Strongest Man title, Eddie Hall, came near – someone thought it would be a good idea for him to lift Tom Daley.
And lift he did, with a nervous Tom promising to "Stay really tight" and trying to figure out where to put his hand. "I'm terrified", Tom screamed, as Eddie threw him up in the air using just one arm.
It's quite amusing – watch it right here: