We all love Tom Daley and his fiancé, Dustin Lance Black. Plus, we all love Shawn Mendes. But here's the twist – Tom and Lance also love Shawn Mendes… and turns out, the handsome singer is a cause for "tension" between the two.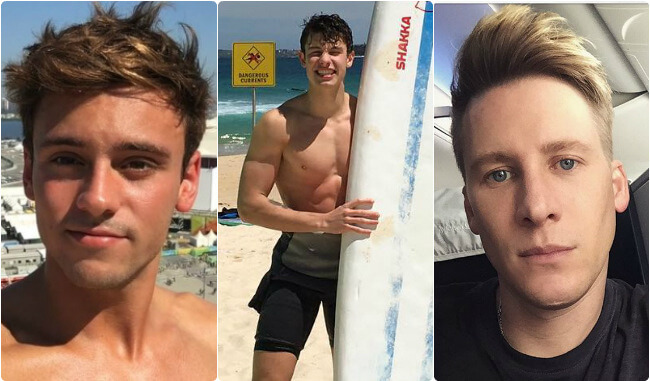 Openly gay Olympic medallist Tom Daley is releasing his new book, "Tom's Daily Plan" this week – it's a healthy eating and fitness cookbook, with recipes and exercises that might help you look like, well, Tom Daley.
Following the release, Tom was doing an "Ask Tom Daley" video, which he normally does once a month. One of the questions was – "Who is your celeb crush?", to which Tom answered:
Funny thing is, Lance had a crush on Shawn Mendes, and then we watched him perform, and his crush became my crush, and now there's some tension between me and Lance about Shawn Mendes.

And then when I got a Shawn Mendes Christmas jumper… that was a good reaction.
Here's Tom in his Shawn Mendes Christmas jumper:
In addition to the Mendes conundrum, Tom also talks about his retirement plans – He plans to take part in the 2020 Olympics, but after that, it all depends on how his body will hold up.
Tom also talks about the 85mm present he got from Dustin for Christmas, and was asked to give his advice for young people in the LGBT+ community:
Just be yourself. Share your stories, be happy… I know it can really be tough sometimes, but just being you and trying to be as happy as you can be with being you, and sharing your stories with somebody you can trust to be able to make you feel better about yourself. 
Watch the full video right here: