Congratulations are in order: Olympic medalist Tom Daley, and his husband, Oscar-winning filmmaker Dustin Lance Black, announced on Instagram today that they're expecting a baby.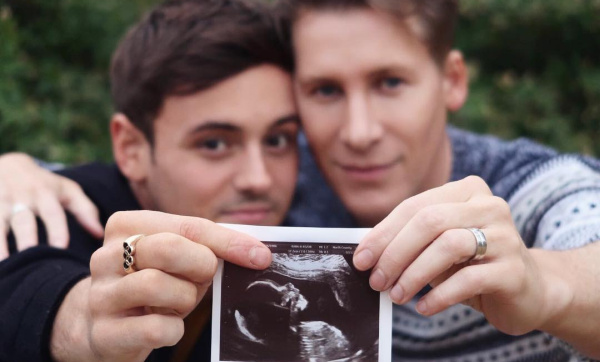 23-year-old Tom Daley and 43-year-old Dustin Lance Black got married back in May 2017,  at the Bovey Castle Hotel and Golf Resort in the United Kingdom. Following the marriage, Tom said "being married gives me a sense of security, and people take our relationship a lot more seriously."

The two have also talked publicly about their wish to extend their family and have children. Today, both Tom and Lance posted photos on Instagram where they show a scan of their unborn child.
Tom wrote in the caption "Happy Valentine's Day", with an emoji of two men and a child:
While Dustin posted a slightly different photo, with the caption "A very happy #ValentinesDay from ours to yours", with the same emoji.
a rep for Tom Daley confirmed the news, as Metro reports:
"Tom and Dustin are thrilled to share that they are expecting their first child in 2018"
The couple's fans were quick to congratulate the expecting parents, with thousands of congratulations and happy reactions to the news.
Back when they released their emotional wedding video, Tom had this to say about his relationship with Lance:
"Within the first few minutes of conversation with Lance things suddenly and massively changed for me. I fell in love. Every single part of him…

Lance is one of the most complicated creatures on the planet. But that is why I love him. And above all, he makes me feel safe. When I'm with him, I feel like I can take over the world."
Well, first a baby – then the world. Congratulations!