Matthew Olson, aka The Shirtless Violinist, released his latest clip today titled "Trump & Putin – A Gay Pride Love Story" with Lady Gaga's "Bad Romance" to kick off Pride month! (Kathy Griffin, take note – add sexy guys to your protest video.)
In this special interview, Matthew talks about his music, being shirtless (with his boyfriend's approval!), and even reveals the worst date he ever had.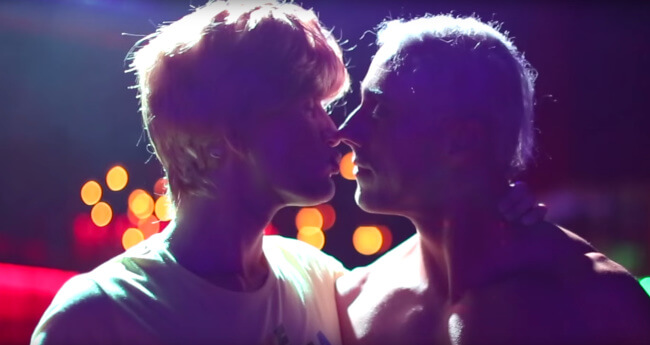 A violin player from the age of 3, Matthew Olson made a splash with the launch of his YouTube channel in August of 2016, mixing his two passions: music and muscles.
Becoming the latest social media hottie, he has covered popular songs by Justin Bieber, Sia, and Katy Perry as well as introduced his audience to lesser-known classical songs like "Czardas" by Vittoria Monti.
His videos have ranged from stunning outdoor landscapes to parodies, like one of his last videos, a gay take on "Beauty on the Beast" – who knew that Beauty and the Beast could get any gayer?
Matthew sat down with GayBuzzer's Alexander Rodriguez for a one on one where he revealed the naked truth about his fetishes, his fans and his underwear.
Tell me a little bit about your musical background.
At the age of 3 I expressed interest in playing the violin. Don't ask me how a 3-year old expresses interest in playing a classical instrument – but that's the story my parents told me! Maybe I saw a violinist on TV and danced a little? I'm not sure, exactly, but the result was weekly lessons and daily practicing from that time on.
https://www.instagram.com/p/BUTJGnHFFet/?taken-by=shirtlessviolinist
The violin has remained an intrinsic part of my life ever since, and I eventually found myself on the other side of the equation: Teaching lessons to my students who range from 2 and a half to 60-years old!
I also performed on stage with musical acts like Andrea Bocelli and Josh Groban on their summer tours last year. I regularly record music for movie and video game soundtracks. I have played in symphonies in Kansas and Washington State, and sat in the orchestras for many ballets, musicals, and operas. In the world of classical music there is always something to do!
Boxers or briefs while playing?
I have a ridiculous underwear collection. It's kind of a secret obsession, so it really depends on the day – but it's never "boxers" I promise you that.
There are actually a few underwear companies that send me free stuff to try on once in a while! It's pretty fun, and I try to model most of them on my Instagram page. They have also made appearances in a few music videos, but I try to remain the pants-wearing violinist most of time.
Worst date?
Oh God! I once went on a date with a guy who took me to the DMV! We were supposed to have lunch, but he said he had a "little errand to run first."
We ended up sitting in the hot, overstuffed waiting area for two and a half hours talking about his CAR. I finally made up an excuse to leave and got the hell out of there. He had the nerve to ask me out again three days later! That was definitely the worst date I've ever been on.
What made you decide to go shirtless?
In addition to being a violinist I was also a fitness instructor! Going to the gym, taking care of my body, and helping others get (and stay) in shape has always been a passion of mine, and I wanted to find a way to unite my two greatest interests in life.
https://www.instagram.com/p/BUBZdGrFYv8/?taken-by=shirtlessviolinist
My boyfriend, Paul, and I produce the videos as a creative team and it was actually his idea for me to do it shirtless! He simply said "I've never seen it done, and I think more people will take notice!"
We both considered names like "The Barefoot Violinist" and "The Violin Beau" but eventually decided to call the act exactly what it was: Shirtless Violinist. Simple, clear, and right to the point!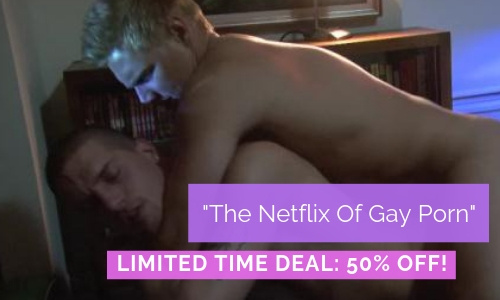 How many times/how long do you go to the gym for?
I joke that the gym is my second office, and it's such a part of my routine that I don't even think twice about it. I eat, I breathe, I go to the gym. And my life would feel strange if I didn't! Having said that, I do take one day off each week. So I'm there six days a week for about 90 minutes a day. Paul joins me, too!
What are some of the craziest comments/responses you've received from social media?
I get so many wonderful comments each day – most of which are people telling me that my videos have either inspired them to play a musical instrument, or start getting in shape. Often both!
But those aren't crazy comments, those are just really nice. The crazy ones are marriage proposals, propositions of sex (no surprise, I guess) and quite a few questions that sound something like this: "Are you and Paul interested in being a 'thruple'?"
Does your boyfriend get jealous of all the attention?
The simple answer is no – he is never jealous of the attention. We have a very solid relationship, and he thinks the attention is hilarious. He also knows it's good for the YouTube channel and our shared goal of making great videos. If Paul were a jealous boyfriend, the relationship (and the channel) just wouldn't work!
https://www.instagram.com/p/BU8kzNmFWva/?taken-by=shirtlessviolinist
Has you going shirtless affected your reputation in the classical world?
That's a good question! And the short answer is yes, but I don't think I had a "reputation" to begin with.
I think, now, I have been noticed by the classical music world in a way that I never could have with my shirt ON. Has it been positive? Not really, but that's no surprise. The classical music world is notoriously tough and they have a very specific view of what is "good" and what is "tasteless." I bet you can figure out what camp I belong in!
Having said that, I have been so fortunate to be featured in multiple articles and interviews with the prestigious Violin Channel online. So I must be doing something right, and I feel very lucky.
Do have any special fantasies/fetishes we would be surprised to find out?
Fun question! Besides my underwear collection (could that be considered a fetish?) I do have one fantasy that involves a can of whipped cream and The Flash…
Watch The Shirtless Violinist's Trump and Putin video right here:
---
You can catch Alexander Rodriguez' full length interviews on his radio show, On the Rocks with Alexander: Where Celebrities & Cocktails Mix, on iHeartRadio, iTunes and REVRY.