Ellen Degeneres sure knows what to do with hunks that come on her show – so when Taylor Lautner came to visit – he was quickly soaked with water, to our viewing pleasure.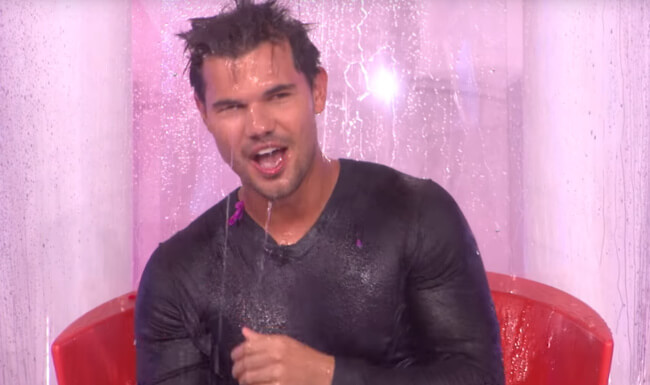 Taylor, who we will always remember as the shirtless stud from Twilight, is a regular on the second season of "Scream Queens" these days. This week, he was on The Ellen Show, and his abs were a major discussion point.
Poor Taylor revealed that strangers tend to rub and pet his abs. "I guess because they watched it on-screen they feel like it's theirs. They don't even ask – they just reach over and start touching as I'm talking to them."
Taylor also admitted to rubbing his own abs – but NOT after eating Pizza.
In the second segment of the show, Taylor took part in the "Oops! My water broke" game, in honor of Breast Cancer Awareness Month. Ellen suggested he take his shirt off – and Taylor teasingly started to do just that… but then stopped. "I'm shy". Oh well.
Then, however, he got all wet – and could definitely win a wet-shirt contest.
Watch the fun parts right here: