Openly gay singer-songwriter Steve Grand sure had a busy week – first he was ready to woo the straight bros in his gym with some tight leggings, then he celebrated his birthday by… cancelling his birthday, and now – he seems to be having a lot of fun in Sydney, Australia, with all those steamy Aussie boys.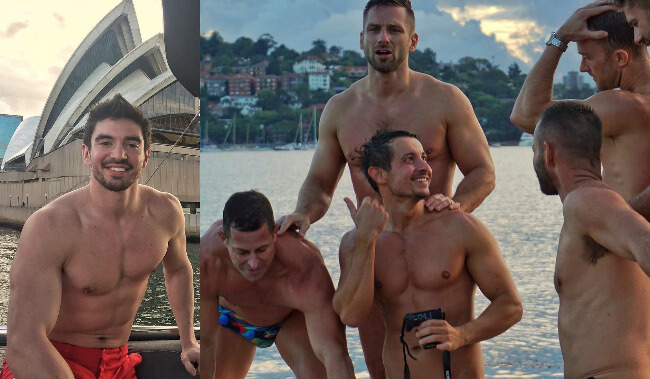 Of course, Steve Grand is pretty steamy himself, so he's a great fit over there. Plus, he went to perform at the "Sydney Gay & Lesbian Mardi Gras."
It all started with this beautiful photo of the Sydney Harbour (that's the area BEHIND Steve's abs) –
Then he took those redundant pants off, showing us his famous bulge, while making a new lady friend:
It was then finally time to meet those Aussie boys on a boat ride:
https://www.instagram.com/p/BRKhRz3FnF3/?taken-by=stevegrandmusic
And then for some reason, they all took their shirts off. Which is perfectly understandable, when you're a hot Aussie boy (or a hot Steve Grand).
https://www.instagram.com/p/BRKhiNmlCgm/?taken-by=stevegrandmusic
Aren't these a lot better than your aunt's vacation photos?