We've always had a soft spot for supermodel River Viiperi, the 25-year-old Spanish-born model. Maybe it's the body, maybe it's those eyes… can you blame us?
So we always enjoy his bed-time Instagram posts. This time, he was in bed – shirtless, as usual – but had to endure a certain… Halloween scare.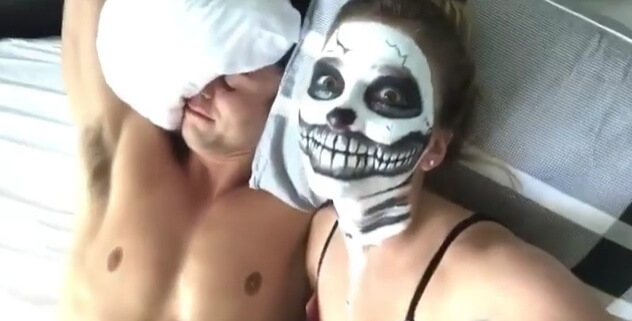 River's girlfriend, Nikki (Nicole Banner) had a particularly scary costume for this year's Halloween. So why not use the costume to scare poor River, who's still sleeping in bed?
It starts off very romantic, with a pleasant "Good Morning", and ends up… with a scream. Watch:
https://www.instagram.com/p/BMHDYM9gaVd/
I'm sure they later made up.
https://www.instagram.com/p/BMHGqF3hGmI/?taken-by=nikki
And if you're wondering – this was River's Halloween costume: