With Tom Holland bringing such a wonderful Spider-Man back into our cinematic lives, the tight-costume-wearing hero is ever so popular. Now you can add another cool Spidey to the list – the Dancing Spider-Man.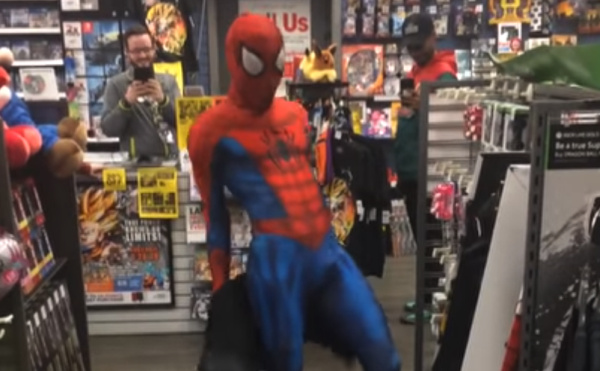 The teenager who never shows his face (just like the real Spider-Man!), goes by the nickname "Ghetto Spider", and he regularly posts videos of himself dancing in the Spider-Man suit in various locations.
While he's already quite popular on Instagram, one of his recent videos – Spidey dancing in a "GameStop" store, to the tune of a-ha's "Take of Me" – went viral on Facebook and amassed millions of views. Here it is:
And there are more videos of him dancing in different locations – and in different Spider-Man suits, marking different eras of the Superhero.
https://www.instagram.com/p/Be9BfoBgcwi/?taken-by=ghetto.spider
And he even has a Spider-Man / Michael Jackson mashup:
And of course, we had Tom Holland's famous Lip-Sync Battle dance – though not as Spider-Man: