We often hear stories about "straight" guys who want to experiment with men, or those who find out they're bisexuals. But a gay man – or at least one who was in a gay relationship – who then decides he's no longer attracted to men at all – that is not a common thing.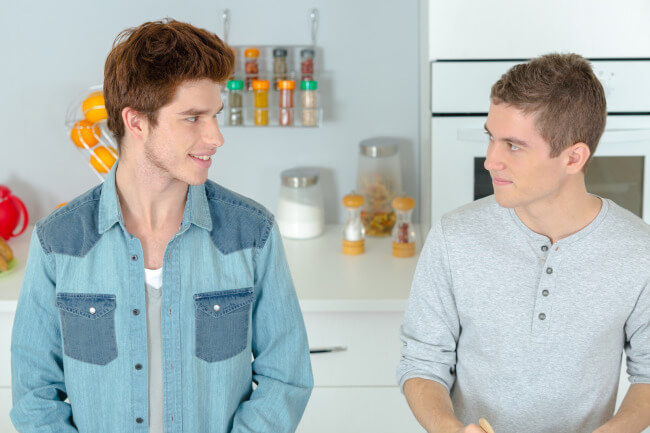 Yet that's what happened to this guy on Reddit, who felt for a while there was something wrong with his boyfriend, who, after four amazing and sex-filled months, started to pull away.
"We started dating at the beginning of this last Summer", he writes. "We were both the first boyfriend either of us had had. He had dated a few girls before me (and decided he didn't like it), and I had fucked a few guys. But other than that, this was pretty new to both of us."
Things were going well (even though they lived miles apart), the parents were accepting, and the sex was great. Until… things started to change.
"About a month ago, things started taking a turn. We didn't text as often. I was usually the one initiating conversations now, conversations which grew shorter and shorter in length.

He was becoming less enthusiastic about sex, too. Instead of being the initiator and the one who took charge, I had to pull the reigns more (not that I'm opposed to doing so, per se).

I would try to figure out when we could find a gap in our schedules to hangout, but he just didn't seem to want to, pushing the dates further and further back.

I kept asking if something was wrong, because I noticed the abrupt change in his tone. But he insisted everything was fine.

Finally, about a week ago, I get him to have a phone call with me to talk about our where our relationship is at.

He tells me that for the last month, he hadn't been feeling any attraction – romantic or sexual – towards men. He says it very casually, as if it's nothing.

All the while, I'm holding back tears on the other end, and trying to mask my very audible sighs. He then breaks up with me, and tells me he still wants to be friends.

I did my best to assure him that I'm not angry with him, and that it's not his fault. After he tries to make some small talk to ease the tension, the call drops out. He tried to call me back, but I couldn't take it anymore and declined the call.

I texted him saying it hurt too much to talk to him anymore, and once more told him that it wasn't his fault. After cussing very loudly in my small apartment and crying for an indeterminate amount of time, I slept for 14 hours.

I knew something was up and was mentally preparing for a breakup as best I could. But this was the last thing I expected. Honestly, I would have preferred he had just lost feeling for me plain an simple.

But telling me he was incapable of having feelings for me or any other men? I just don't know what to think anymore. I have even come to question my own sexuality as a result.

How could someone who I know had enjoyed sex with me on a weekly basis for almost four months, been so affectionate to me, someone who was (to me) gay without a question or a doubt, suddenly just lose all attraction to men?

Did he ever really love me? Did I ever really love him? Is he lying to me? I can't really see how he might be going back into the closet, given how supportive his family, friends and I were of his supposed sexual preference.

I know trying out sex with a man, or even a relationship with a man, doesn't necessarily make a guy gay. There's plenty of straight guys who try it out to see if it's for them or not.

The conclusion I have currently reached is that–if he's not lying to me–he's bisexual, wanted to see what it was like to be gay, and now wants to see what it's like to be straight.

Hell, maybe he's asexual. I don't really feel like prodding him directly, partly because I'm not even sure if he'd know for sure. Overall, I don't know what to think. All I know is that I have to move on.