"Scream Queens" is a series with an endless supply of hunks. Last season we had a gay Nick Jonas – and this year we're getting Taylor Lautner, John Stamos, and… a love story between Stamos and Glen Powell's character, Chad Radwell.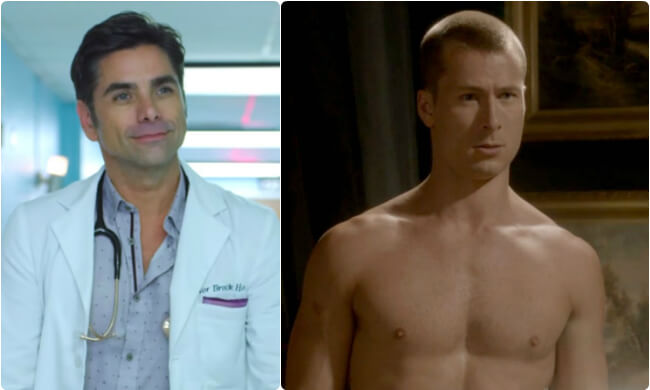 In an interview with Harper's Bazaar John Stamos reveals a few scoops and spoilers from the upcoming second season of Ryan Murphy's "Scream Queens" – this time set mostly in a hospital.
Among other things, Stamos is going to have a gay love story:
I'm in a story line for two episodes right now where we're in love, Chad Radwell (played by Glen Powell) and Brock Holt. In fact, we did a pretty dramatic shower scene the other day. It's just outrageous.
Apparently, we're also going to get a very naked shower scene with the two:
I've really never done this kind of thing and I feel like Farrah Fawcett or Raquel Welch when they posed nude in Playboy, like "I'm gonna show my body!"…

Although I'm standing next to Glen Powell, who's like a God. So we had a scene in the shower room and then they just wrote it in!
And – after watching the naked Powell ("he's like a god!"), Stamos HAD to pick him as his "Man Crush Monday":
That Chad Radwell is a pretty good-looking dude… Because I've seen Chad Radwell naked.
The second season or Scream Queens premieres TONIGHT (Tuesday) on Fox.
Watch the trailer right here:
https://www.instagram.com/p/BKeaXkIBWol/?taken-by=screamqueensfox