The original Camp Rock movie, released back in 2008 and starring The Jonas Brothers (Nick, Joe and Kevin) and Demi Lovato, was Disney Channel's third highest viewed movie to date. And better yet – it brought the Jonas Brothers storming into our lives.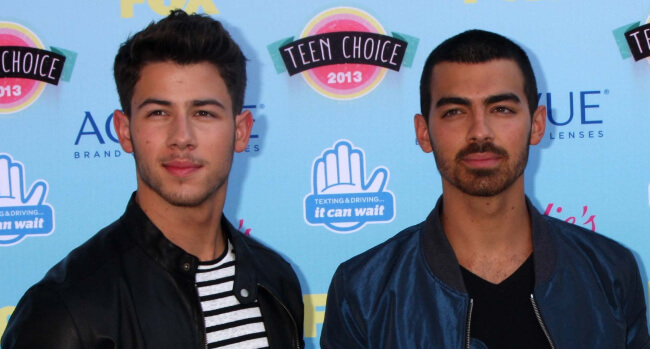 Seven years after the sequel ("Camp Rock 2"), both Nick Jonas and Joe Jonas have turned into buffed-up underwear models (who also sing). So now, Joe thinks it's time to put those muscles to good use, and finally film that R-Rated version of Camp Rock – for grown ups this time.
Speaking to Marie Claire, Joe explains his idea for a "darker" version of that teen phenomenon:
"If it made sense, sure. For all of us – Demi, Nick, it would be funny to do a spin on it. Do the graduating days, make it kinda dark. An adult film. Well, not an adult film. An R-rated film. We've joked around about the idea a couple times."
Just think of the things Joe and Nick Jonas could do in a dark, R-Rated version of a movie about young men who go to camp (we mean college), and then come to terms with… singing, we mean singing.
Joe, who is 27-years-old now, is doing an underwear campaign for Guess these days – which forced him to spend a lot of time in the gym, along with brother Nick. (Who, Joe explained in another interview, "is that guy who screams").
But despite those muscles, Joe doesn't see himself as a sex symbol.
"I don't think I'm a sex symbol. There's a little bit of an idea that you've gotta stay in the gym if you're going to be in an underwear campaign, so you have that in the back of your head. But it's a lifestyle now. It was life-changing."
Not a sex symbol? You be the judge:
Not sure yet? Here's another one: