Nick Jonas and his brother Joe have really become fit in the past few years. From cute boys in the "Jonas Brothers" days, they're now muscular hunks. So when the both of them go on a hike together – you can expect steamy photos.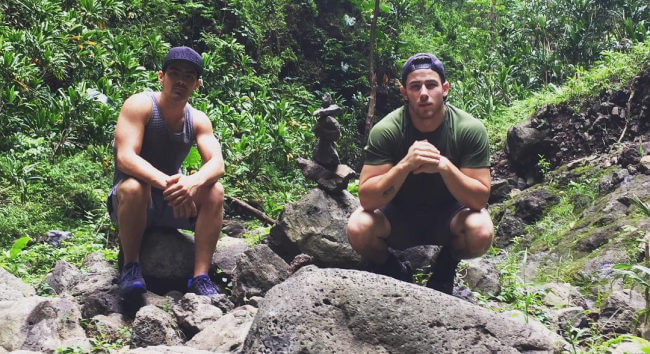 Nick is filming a "Jumanji" sequel in Hawaii these days, along with Jack Black and The Rock. Brother Joe joined him for a relaxing weekend hike, and we were treated to the two muscular studs sitting together in a lush forest, being very lush themselves.
Enjoy:
Joe posted the photo on his Instagram account as well, with the caption:
Incredible hike in beautiful Hawaii with @nickjonas he's killing it filming #jumanji almost busted my ass 20 times on this crazy hike but we did it!!
And if you're wondering what Nick is doing when he's not touring the forest with brother Joe – here's a snap he posted with his co-star, The Rock: