These days, openly gay soldiers in the U.S. military are almost common. But being a gay Air Force airman 40 years ago, AND coming on to another soldier – that's something you don't hear every day. And that's exactly what this Air Force member was willing to share on Reddit.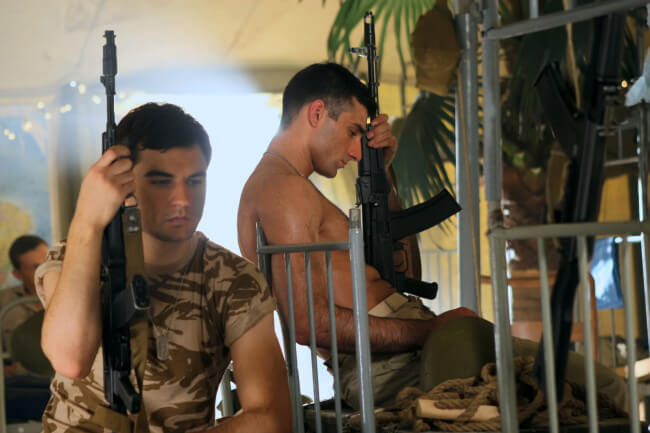 "I was at a training base in the Air Force", he writes, "and it shared the marching drill grounds with the basic training facility. Active duty personnel were not allowed to socialize or talk with members in basic training except to give them demerits for not having their uniform right, etc."
Then – came the guy he eventually fell in love with.
I ran into this kid in basic training and was absolutely star struck smitten by him. His flight and mine were doing drill at the same time on the field. He was five foot six and was therefore the very last man on the outside of his formation.

So I would march my flight by his, and as I came abreast of him, would order and eyes right, salute, and wink right at him. Needless to say this caused him consternation, he would fall out of step, and his DI would be all over him.

I also ran across him all over base, and would call him over and give him demerits for his shoes, his uniform, etc. He never did get to go into town on a weekend off. It was my only way of interacting with him.

On what turned out to be his final day in basic I saw him coming out of the admin building, and called him over, and gave him 23 demerits. As he walked away, he turned, lost his cool, and shouted, "I'll see you again you bastard!"

Three weeks later I was sent to another base for further training. As I brought my bags into the day room of the barracks, who was sitting there but the same guy. He jumped up, glaring at me in a long long stare. Then we both busted out laughing. He had known all along what I was up to.

That night we kissed under a full moon. I didn't know I was gay. I didn't know until he kissed me. I was a very inexperienced farm boy who was away from home for the first time in his life. I fell into powerful emotions that had their way with me.

We spent the next 16 years together, and even raised his much younger brothers when the parents became incapacitated.