If Harry Styles crash-lands on top of you during a concert, is that a bad thing or a good thing? His fans were actually thrilled to have Harry's body parts hit them in the head before he sank to the ground… But we can kind of understand why.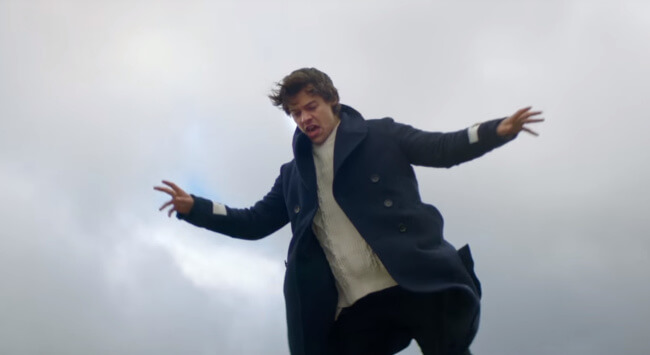 Harry Styles, the former One Direction vocalist, is heavily promoting his first solo album these days. The album will finally be released tomorrow, but ahead of that, Harry performed at a super-secret event in New York, with songs from the new album.
Around 100 fans were invited to the party, and were enjoying themselves, until Harry decided it was time to do a stage dive – apparently his first ever. Sadly, it didn't go so well, as Seventeen reports:
Harry leaped into the eager crowd without a care in the world. He bobbed in the air for a short, glorious second, but it seems his adoring fans lacked the upper body strength to hold him up, because he immediately sank down to the ground pretty much where he landed in the crowd.

Now that I'm thinking about it, I'm pretty sure that's exactly what the fans who caught him wanted, as they all swooped in on Harry, touching him and yanking him around. It took quite a few security guards to free him from the hoard of lucky fans who wanted nothing more than to get crushed by Harry.
Several fans who were at the event, quickly took to Twitter to celebrate Harry kicking them in the head.
HARRY FUCKING DID A STAGE DIVE AND KICKED ME IN THE HEAD WITH HIS GUCCI SHOE THANK FUCKING GOD

— v // 13!! (@zaynftstyles) May 8, 2017
Following the failed stage dive, Harry went back on stage and apologised. But it sounds like he had nothing to apologise for – his fans were thrilled…
This week also marked Harry's first solo music video, for his song "Sign of the Times", where he also… flies. Watch it right here: