Just like every other good looking male celebrity, Harry Styles is the subject of many gay rumours. But this one's the weirdest – saying that Harry had a secret gay affair with… former president Barack Obama.
Now, however, Harry was finally asked about it point blank – and his answer was… interesting.
It all started back in 2014, when an alleged cover of The National Examiner was doing the rounds on Twitter. According to the tabloid's cover, Barack Obama "hid his gay lifestyle", and had sex "with THIS man" – pointing to a photo of Harry Styles.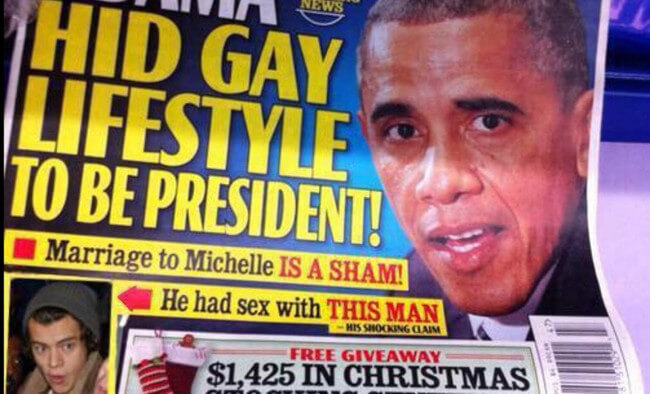 Surprisingly, the photo was a fake. However, the cover was NOT a fake – the paper did indeed claim that Barack Obama had a "secret gay affair", it's just that originally the photo was of someone else, NOT Harry Styles.
Yesterday, Harry Styles was a guest on The Graham Norton Show, where he was asked to confirm – or deny – crazy rumours about him, preferably with facial expressions alone.
Among questions about getting Chlamydia from a Koala bear, Harry was also asked about the infamous Obama story. "I'm legally not allowed to say", he began his answer… and watch the rest right here: