It's that time of the year again – the streets light up, the weather gets cold, and British men get naked in order to decorate Christmas trees. Wait, what?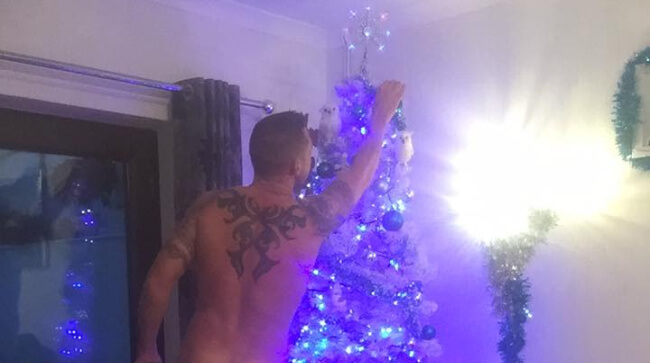 41-year-old Shaun Welsby, a single dad and handyman from Greater Manchester in the U.K., runs his own home maintenance firm. Recently, he posted two very raunchy photos on his public Facebook page, of himself erecting his Christmas tree – in the nude.
The caption, said:
"It's beginning to look a lot like Christmas does anyone need help putting up there's up ??? 😉 Xxx "
Shaun later spoke to The Sun:
I was just messing around with the selfie stick while I put the tree up and thought I'd have a bit of a laugh. I go to the gym and I look after myself so I wasn't exactly shy about taking my clothes off.

I'd seen a picture online of a couple of men putting a tree up naked and that was the inspiration. I did it along the lines of that with a wreath to cover my bits and it seemed to go down a storm.

The picture where you can see my bum seemed to be the most popular.
So if you need any help with your Christmas tree, Shaun might be able to help, though, admittedly, he's mostly looking to aid the ladies.