It seems a day can't go by without another celebrity having his nude photos leaked. This time it's 24-year-old actor and model Gregg Sulkin. The surprising bit, though, comes from the fact that his ex retweeted those photos… in Sulkin's defence.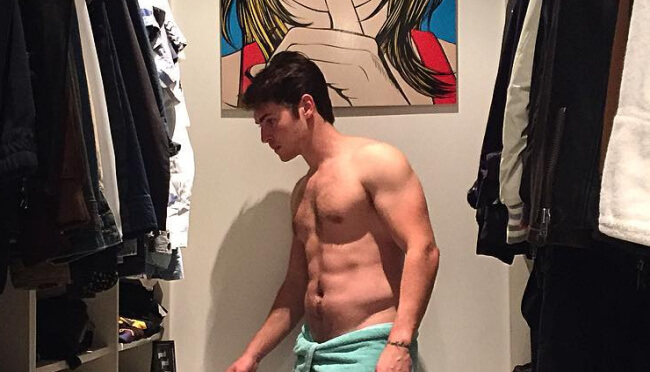 It all started when someone posted a photo of a torso, and a man holding his penis, claiming that these are "Gregg Sulkin's nudes" (the original tweet has since been deleted).
With some many leaked nudes out there, fans quickly assumed this was indeed another such case.
But Gregg's ex-girlfriend, 19-year-old actress and singer Bella Thorne, quickly came to Gregg's defence. She retweeted the photo, and added a caption saying "Haha I'm telling you this isn't greggs dick". Obviously, she would know.
Haha I'm telling you this isn't greggs dick https://t.co/hPpydgmkS9

— bella thorne (@bellathorne) January 18, 2017
With over 6 million followers, many were… puzzled by the sudden appearance of a naked man holding his penis, via Bella's feed.
Instead of leaked photos, authentic or not, let's enjoy some of Gregg's approved photos, from his Instagram account:
https://www.instagram.com/p/BPIfhWKBTnI/?taken-by=greggsulkin
Keeping fit –
https://www.instagram.com/p/BPac-38Bs5t/?taken-by=greggsulkin
Looking good
Tyler Posey also suffered from the Leaked Nudes syndrome this week
https://www.instagram.com/p/BJsfIoBBho7/?taken-by=greggsulkin