These days, gay porn stars don't just do porn – they often become internet celebrities, with popular Instagram, Twitter and sometimes even YouTube accounts.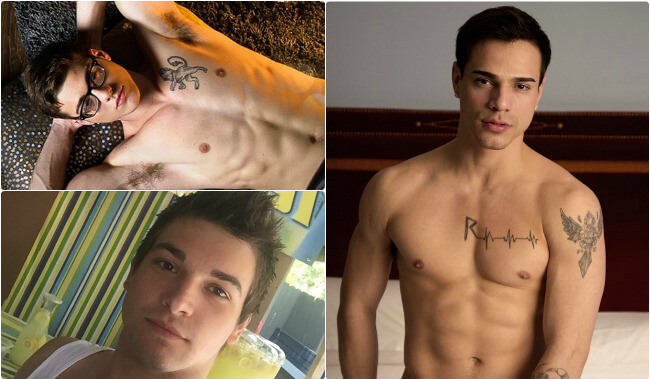 These guys (some of which are not even necessarily gay) are an eyeful, and the good thing about following them on Instagram, is that their photos there are safe for work. Well, for the most part.
And make sure you check our collection of the Best Gay Porn Deals and Discounts if you want to see their… "other" work. And obviously, most of the links in this article are very NSFW…
1. Levi Karter
A popular name in the gay porn business, he's sometimes a bit hard to define. Is he a Twink? Is he a Twunk? Whatever he is, he's definitely good looking. Oh, and he's also a singer!
You can watch some of his "other" work via this VERY NSFW link. Plus, you can buy his very own Fleshjack model right here.
2. Blake Mitchell
The former "Helix Studios" model (also known as Lane V. Rogers) is one of the most popular gay porn stars in recent years, his perfectly toned body can be seen in lots of places – from Instagram to Twitter and even YouTube.
You can watch Blake Mitchell's more… "explicit" work on –
3. Sean Ford
Another popular performer who started out with Helix Studios and then moved to CockyBoys.
He can be seen on Instagram, Twitter, YouTube (as he had a chance to collaborate with, yes, Davey Wavey).
You can watch his "other" work either on Helix via this VERY NSFW link, or on CockyBoys.
https://www.instagram.com/p/BPqDAzvhYLB/?taken-by=seanfordxx
4. Troy Accola
A handsome twinkish face, a perfect body, what's not to like about Troy? And you can even see some of his videos on YouTube.
And if you want to see his more… "explicit" videos, he's a CockyBoys exclusive these days, so go here.
5. Jake Bass
If you like your guys a bit rough around the edges, Jake Bass might very well be the answer for you. Hey, he's got tattoos!
Although it seems he's not filming new scenes these days (at least for the time being), his active Instagram account is beautiful.
He also has his own Fleshjack toy, which you can get right here.
6. Brent Everett
https://www.instagram.com/p/By736EngcdK/
Veteran gay porn performer who still looks amazing at the age of 35 (which is young, of course, but these days it sometimes feels like porn stars have to be 18 and a day).
And yes, Brent also has his own Fleshjack model which you can get here. You can find him either on his official site, or see one of his latest scenes on Men.com's website.
https://www.instagram.com/p/ByIcOu_AzL_/
7. Marcel Tykes
Helix Studios isn't exactly known for filming gay porn with people of colour – but then they've added Marcel Tykes to their twink roster, and things got exciting…
His Instagram account was kind of dormant for the past few months – here's hoping he'll start updating again… Until then – you can watch his scenes over at Helix Studios.
8. Johnny Rapid
A prolific star who also has an interesting history with Justin Bieber, Johnny's been doing all sorts of scenes and gay porn parodies. He was even The Flash!
You can watch his porn work via this VERY NSFW link.
https://www.instagram.com/p/B0uxtqMBdNT/
9. Alex Mecum
If you like your men with some scruff – and some more muscles than an average twink – Alex should fit the bill perfectly.
And if you want to see him even more naked – with other naked men – go over to Men.com (where you can get 30% off with this link).
10. Liam Riley
Originally from California, Liam also had a fruitful career as a cheerleader and reality TV personality, under the stage name Apple Graceffa.
You can see Riley's scenes over at CockyBoys.
And there he is with Olympic medalist Chris Mears!. 
The Best Gay Porn Deals, Discounts And Trials
https://www.instagram.com/p/1CWTwZHgQi/?taken-by=christianwildex