What do you get when you take a group of young, handsome gay men who pretend they're straight, take most of their clothes off, and ask them to sing? Just about every other boy band in the world.
However… what happens when you add porn stars to the mix? You get "One Erection", with their new hit song – "Sticky Face".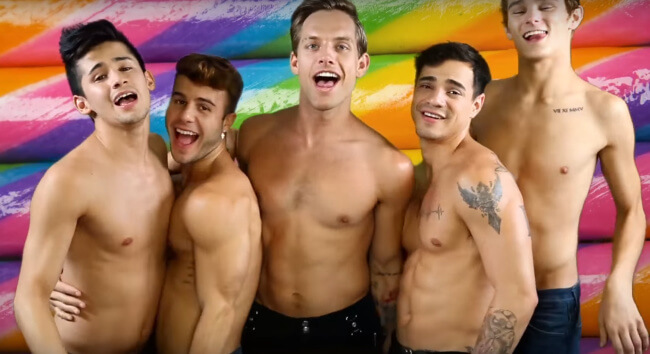 From the minds of porn producer Jake Jaxson, and famous porn director Chi Chi LaRue, comes a new boy band parody (or is it real?). Jake explains:
One Erection: The (un)Making of a Boy Band" was our first foray into Porn Parody. Shot as a mockumenatry (we call it cockumentary), we followed our fictitious boy band New Direction (their adoring fans call them "One Erection"), as they make the music video for their newest hit single "Sticky Face!".

All the while, they've been positioned by their management as "straight," when in fact they are all GAY, GAY, GAY. It's a perfect recipe for an epic pop star melt down—their fights, flaws and sex-capades all captured for the world to see!
The best part? The guys actually recorded and filmed a hit song, which is now available on Spotify and iTunes. The song was performed by porn stars Levi Karter, Tayte Hanson, Kody Stewart, Liam Riley and Allen King.
The fun music video also features cameos from other famous gay porn stars, such as Colby Keller, Trenton Ducati, Max Ryder and others.
Watch the hilarious clip right here: