Porn sites in general, and gay porn sites are no exception, offer fantasies. Sometimes they're just fantasies of men having sex in front of you, and sometimes things go a step further, with role-playing, BDSM, and a variety of fetishes.
Sometimes, however, it seems things are taken a step (or three) too far – as is the case with gay porn site "Gay Patrol", that is being accused of blatant racism and insensitivity with their collection of videos depicting white police officers raping African-American "criminals".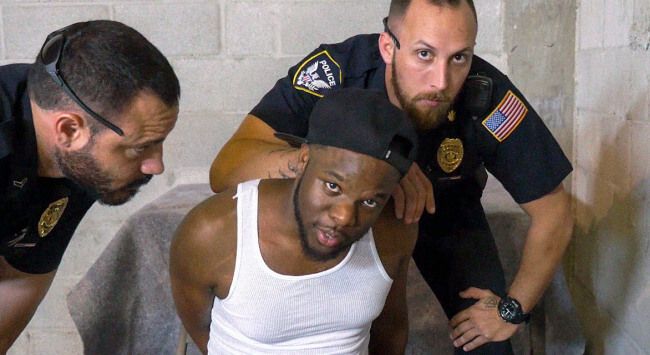 The site was exposed by gay porn blog Str8UpGayPorn (NSFW Link!), having received an e-mail from a shocked reader. "Gay Patrol" describes itself as a site where you "See these power-hungry and horny cops take control of our black population and fuck them."
With so many incidents of white cops being violent and racist towards African-American men, the premise is insensitive at best, even for a porn site, but things get worse once you read some of these offensive scene descriptions:
"When Officer West got a report about some idiot doing doughnuts in a parking lot, my cock starting [sic] getting hard. Dumb, criminal activity, in the middle of the day – oh you better believe some black son of a bitch was doing it.

…"I hope our little darkie friend learned his lesson, but something tells me we're going to have another meeting with this black snowflake who does whatever he wants."
And also:
"We had to wait a while but that donkey showed up. We then took him down. Ohhh it was sweet. We took our new homie back to our special place and as soon as he gets the straight dope he knew it was face down, ass up time."
Other scene descriptions include racial slurs such as "spearchucker", "blackie" and "stupid darkie".
According to Str8UpGayPorn, the site is run by a New Jersey-based company which also operates other similar sites, both straight and gay, such as "Fuck You Cracker", "Blacks on Moms" and "Arabs Exposed."