There's no denying Garrett Clayton is a hottie – but when you've got that sort of body, you need to keep it tanned (and toned) – which Garrett took care of on his recent trip with Elizabeth Stanton's travelling show.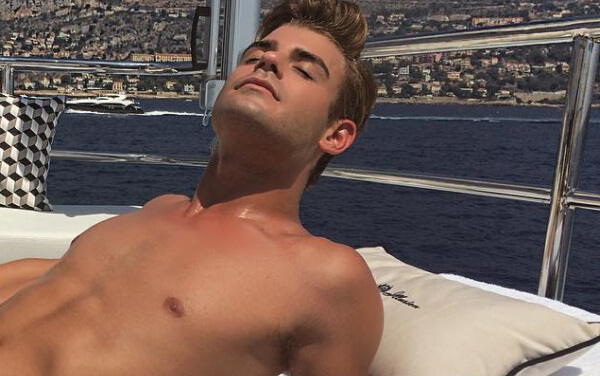 Garrett Clayton, The 26-year-old actor who we saw last year as gay porn star Brent Corrigan in King Cobra, took part in Liz Stanton's Great Big World TV show, in which she travels the world with celebrities.
Going to Monte Carlo and spending some fun times on a boat, Garrett quickly stripped down to his bathing suit, and took in some sun.
On and off the boat. "I love my job"
Then there was also this photo, from the same set, where Garrett was focusing on his shirt – but fans were actually focusing on that suspicious bulge in his pants.

"Is that a boner?", they were asking. We're sceptical – but if it is… that's… big.