By now, there's a good chance you've seen porn biopic "King Cobra" (if you haven't – you can stream it on Amazon right now). Garrett Clayton, the former-Disney star who plays Brent Corrigan in the film, still has a few things to say about his role – among them, how he had to learn Corrigan's kissing habits up close.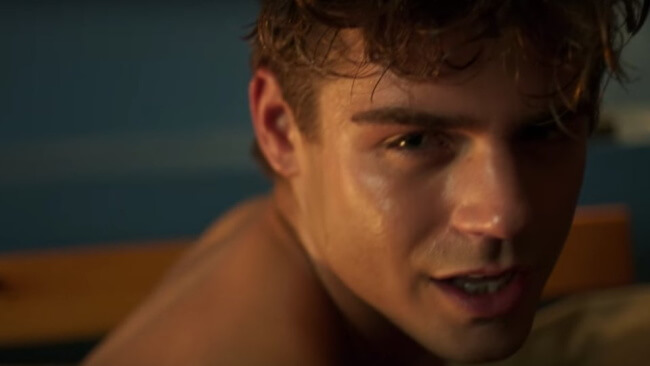 "King Cobra" is based on events from 2007, when porn producer Brian Kocis (Christian Slater in the movie) was brutally murdered by two rival porn actors/producers, Harlow Cuadra and Joseph Kerekes (James Franco and Keegan Allen), in hopes of snagging Kocis' studio star –  Brent Corrigan.
In recent interviews, we've learned a lot about the 25-year-old Clayton: He likes to be "as naked as possible",  it was fascinating for him to watch Brent Corrigan's first porn scene, and how the gay orgy scene was awkward for him.
Now, in a recent interview with The Georgia Voice, Clayton elaborates about getting ready for the role, and his process for "embodying Brent's mannerisms during the porn scenes" –
You want to watch someone's work and study the way they're into somebody or not. How do they kiss? Do they bite? Do they like biting lips? Do they like using more tongue? Are they more aggressive in their work? Does he play the victim? I tried to look at all those things.

How is he when he speaks to his audience? What's his body language like when he's talking about something he's comfortable with versus uncomfortable with?
And of course, Clayton is also asked about his own sexual orientation – a subject he tends to avoid:
I moved out to LA to have a career where I got to play characters and focus on work and do all these awesome things, and I'm getting to do that now. I just don't think it's pertinent to talk about my personal life. I don't think it adds to the work; it just distracts from it.

One thing I even took away from this: I gained a lot more sympathy for people who work in the adult industry. A lot of times society is so harsh on people who do work in porn, and they're so judged and scrutinized.

They just treat people who work in this industry poorly, and yet they're watching them alone in their bedroom, supporting them. You can't pick and choose. You either are open-minded, or you're not.
Read the full interview right here. And THEN go watch the movie…