With Fifty Shades of Grey (and its sequel) making BDSM waves around the world (well, OK, mostly for straight people… but Jamie Dornan is still hot!), it was only a matter of time before Davey Wavey would get himself into a sling – and that day has finally come, and we get to watch.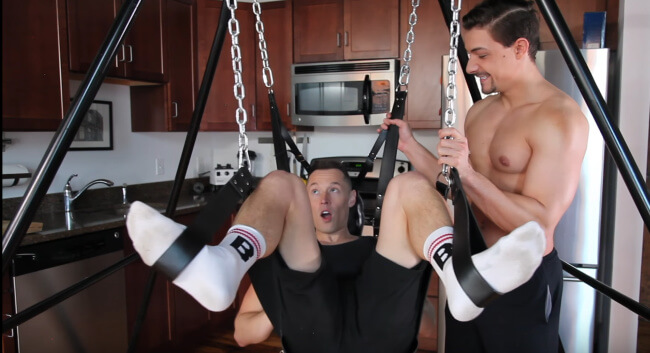 Davey brought along a friend for the ride – Carter Dane, a Canadian model and gay porn star (you can see his NSFW work via this very NSFW link!)
"You really do end up giving yourself away completely to the person", Carter explains. "Usually you're bound and you have to really surrender to people."
Davey, just before climbing in, acknowledges that while this is BDSM, "there's almost like a sweetness to surrender to someone and open yourself up and receive them."
Then it's time for Davey to spread his legs wide, and… slide right in.
"I could sit in this and watch Netflix. Ass up, hand on the remote… But I also feel very frisky and submissive because you're open up.

I feel like if you go to a restaurant and I'm the buffet…"
He really does seem to enjoy himself in there, while Dane also admits to enjoying the spectacle from the sidelines. Watch it all right here: