Back in August, we told you about the calendar dedicated to Amazon's The Boys series, and how it featured a photo of Chace Crawford with a very prominent, very big… bulge. Now, Chace finally reacts to that infamous photo, and how he constantly gets approached by… men.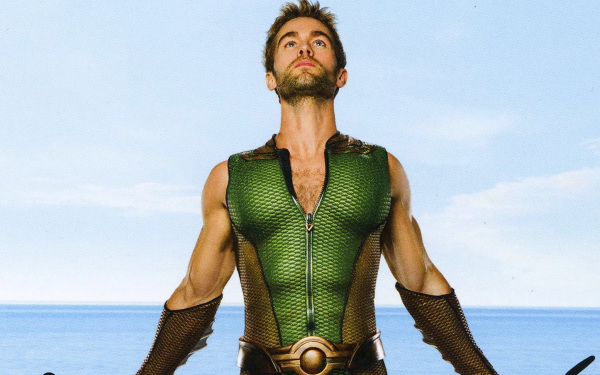 34-year-old Texan actor Chace Crawford, who you might have seen on Gossip Girl or The Covenant, plays superhero The Deep, a sexy parody of Aquaman, on Amazon's The Boys series.
And as we've seen during, ehm, March – Chace is not only a superhero, he's also got a super-bulge.
Now, in an interview with Entertainment Weekly, Chace says that bulge-shot was very much planned. But… there's also a secret behind it. Which he's not sharing…
"There is a story behind that but I'm sworn to secrecy by Eric Kripke (the series co-creator)", he says. "I'm sworn to secrecy. I wish I could give you a good answer but we'll never know. It will forever remain a mystery. We will never know!"
However, he is willing to share the reactions to that photo/bulge.
"I thought it was so funny, but I don't think anyone got a bigger kick out of it than Eric Kripke. He thought it was the funniest thing in the world. Oh god.

That was one I had to explain to a few people. I got a lot of weird DMs in my inbox. A lot of love, a lot of love!"
Talking about the reactions to the show in general, Chance was also surprised to get more reactions from men than from women (hey, maybe the bulge helped).
"It's funny to get some of the reactions from the guys, like these big, big dudes at the gym come up to me like, 'Yo man, can I get a picture?'.

When that started happening I had a big smile on my face. I was surprised. It's got such a different demographic."