Looking back at your early work, no matter what profession you're in, can be awkward. But when you're a gay porn star, things can get a lot more awkward… However, Blake Mitchell, one of the biggest adult stars working in gay porn today, was brave enough to go back and re-watch his first scene.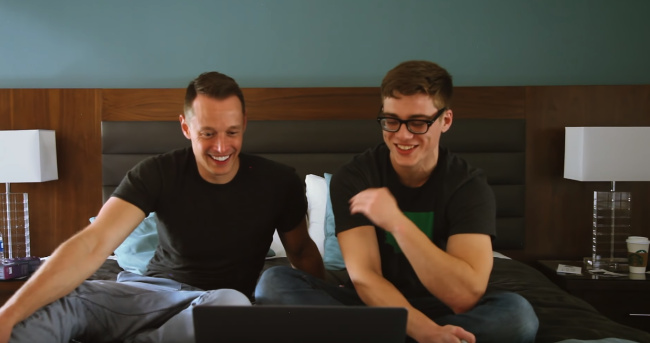 Blake Mitchell is a very popular 23-year-old gay porn star who can usually be seen on Helix Studios (NSFW Link!), and recently also on Davey Wavey's new gay erotica website – Himeros.TV (Also NSFW Link!).
On his newly re-launched YouTube channel, Blake sat down with pal Davey Wavey (who did a similar thing with gay porn star Brent Everett), to watch and critique his first-ever scene with Helix Studios – "Take It From Blake" (You can watch it via this NSFW link.) 
https://www.instagram.com/p/Bj7wbjZHI2u/?taken-by=mrblakemitchell
Blake's glasses have become part of his trademark and image by now – but back then, in his very first professional scene, he wasn't wearing his glasses, because the studio was "afraid it would be a flop". Therefore, Blake is almost unrecognisable to his present fans – including to Davey.
However… "Your dick is the same, that hasn't changed", Davey is quick to note. "I recognise your dick more than your face in this video."
Blake, however, is surprised to hear that. "Really? I think it's almost… bigger now."
https://www.instagram.com/p/Bi–9wMHB_j/?taken-by=mrblakemitchell
Surprisingly, Blake says he wasn't nervous, filming his first scene. "Maybe because I was camming for a year before that. The weird part was that other people were there, filming and watching me."
Blake and Davey go over the scene, talking about the moaning ("I wonder if he sounds like that in real life"), and the rimming ("I wasn't very good back then"), and how Blake uses these older scenes to learn and get better.
Watch it all right here: