Ansel Elgort, the 23-year-old actor and singer is killing it these days with his movie Baby Driver, so what better way to celebrate than some nude dipping in a pool in Thailand?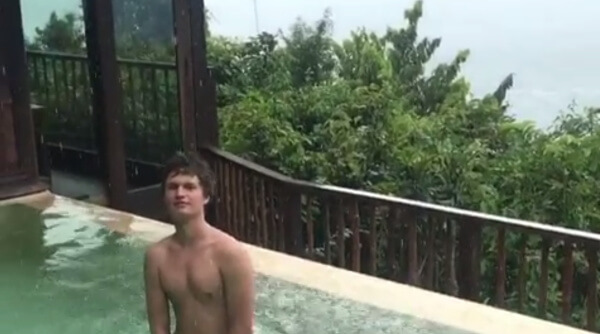 Ansel, who you also might remember from his emotional role on The Fault in Our Stars, is promoting Baby Driver all over the world these days, and is now in Thailand.
And even though it was raining (yes, in the summer), he decided not to let it stop him from having some fun in the pool. Naked. And happily for us – he shared the fun on Instagram.
While Ansel is trying to cover his, ehm, "private bits", his tan lines are clearly visible – time for some nude tanning to cover those up? Not to worry, we love him all the same.
Enjoy:
https://www.instagram.com/p/BW0JctbgQdq/?taken-by=ansel
And another shot from his time in Thailand:
https://www.instagram.com/p/BWujtJIgejw/?taken-by=ansel
Then there was that time he was in New Zealand…