Two-time Olympic medallist Tom Daley was a guest on BBC Radio 1's Breakfast Show, where he talked about being naked with his medal – and the surprising dress code for his upcoming wedding with Dustin Lance Black.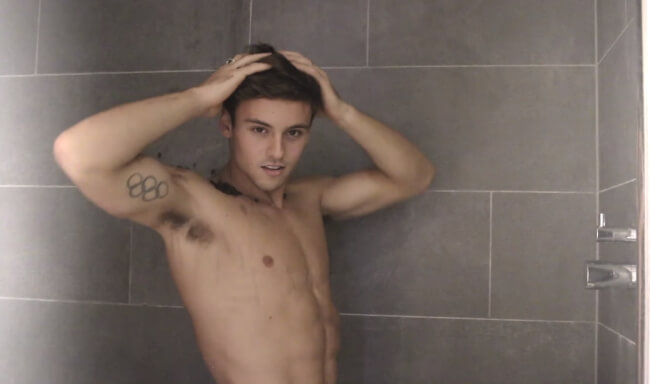 As we're all curious, Tom was asked if he ever did any "sexy stuff" with his medal on:
No, not sexy stuff. But sometimes you do have to put it on naked, just to see what it looks like.
Tom also talks about sex in the Olympic village again. "People are in peak physical condition, you've been training so hard, you've been so strict with yourself, and then… it's a big release. There's a man who walks around with a bag of condoms, and people walk up to him and say "Can I have one please?"
And if you've ever wondered thy Tom never goes to the Jacuzzi in the Olympic village – he states a very good reason: "I'm not a fan of the Jacuzzi. I feel everyone goes into the Jacuzzi to pee – the color was never right. I think that's what they used the hot tubs for… that's why I stick to the shower… Some Olympians are filthy."
Tom also talks about his daily training routine, which surprisingly is %70 dry-land exercises – from spinning to gymnastics to ballet – and yes, he does train in his tiny trunks, which helps with the tan lines.
Tom was also asked about his upcoming marriage with Dustin Lance Black. Most of the ceremony and celebrations aren't planned yet – but Tom did joke about the dress code – "it's going to be swimwear only!". That'll make for some nice wedding photos…
You can watch the full interview here: