Tom Daley and Dustin Lance Black are not only one the most romantic famous gay couples out there, they're also easy on the eyes.
So naturally, we're thrilled to hear about their first kiss – and a few more tidbits from their relationship ("I just gave you a head…") on Tom's latest YouTube video.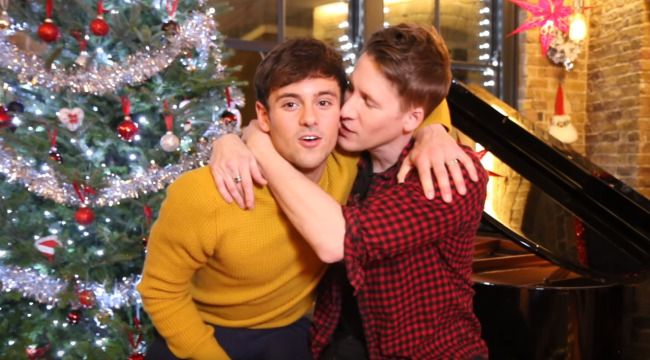 For those who need a refresher, 24-year-old Olympic diver Tom Daley and 44-year-old filmmaker Dustin Lance Black got married back in May 2017, after being together for 6 years.
In their latest video, they're doing the Husband Tag, answering all sorts of intimate questions together. For example – they describe their first kiss, which happened a very short time after their relationship started,
"It was a day or so after we met. We're hanging out, it was incredibly innocent and really sweet. For hours and hours we talked… Connecting, connecting, connecting…

And then you go use the restroom and you come back and your shirt's off. And you go 'Here stand up and let me show you how you do a dive. All of a sudden you're standing this far from me, lifting my hands above my head, and then it's a little bit of…. You get the rest!"
They also talk about meeting each other's families for the first time, about how Tom would love to eat Lance all day long (hmm), and some wisdom about how to keep the perfect relationship.
Watch it all right here: