Now that the Rio Olympics are but a distant memory, Tom Daley has time to answer fan questions on his YouTube channel – which is a chance for us to hear how he got his two head scars, what he can't do without every day, and what his plans for the future are.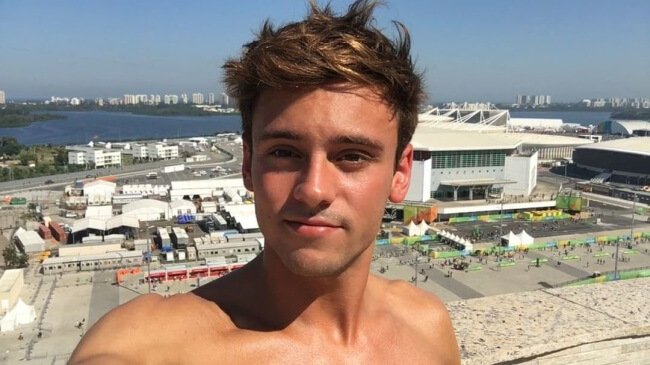 Tom was answering questions posted for him on his various social media channels. Among the more interesting answers:
What's the one thing you can't go one day without doing?
I text and Facetime with Lance (Dustin Lance Black – Tom's fiancé) every single day. But also – exercise. I like to be active. I can never sit down on the sofa.
If you could play any other sport – what would it be and why?
The one sport I would love to try is skeleton bobsleigh, or something along those lines. Something adrenaline fueled. Because diving is pretty scary at times. I still get scared every time I go up there.
How do you relax and what do you do in your free time?
I love cooking and experimenting in the kitchen, whether it's baking or experimenting with something new. I love eating, basically.
Have you ever bashed your hear on the diving board?
The answer to that is yes – I've bashed my head on the diving board twice and I have two scars. (Let me see if I can show you my scar…)

Diving is a dangerous sport. Every now and then things go wrong and you just have to get back up and do it again.
Where do you see yourself in 10 years' time?
In an ideal dream world I would be obviously be married by then to Lance, I would love to have a couple of kids, and be able to have a successful TV presenting career.
Watch the full video right here: