Tom Daley is very much a sex symbol – for both women and, of course, gay men. That should come as no surprise – but, it seems, it does come as a surprise to Tom himself.
And in a new interview, he also discusses the age gap between him and Dustin Lance Black – and the weird photos he gets from men.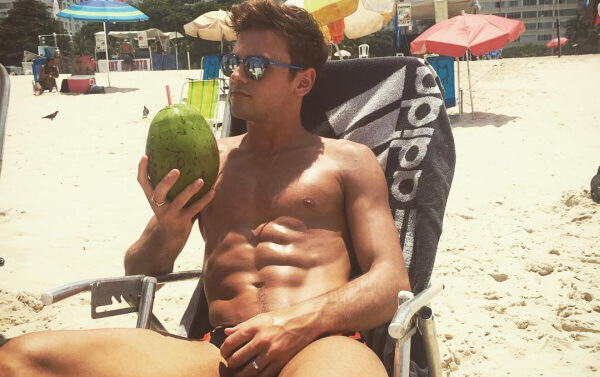 Tom Daley, the openly gay Olympic medallist, is promoting his new health and diet book these days – "Tom's Daley Plan". As part of that, Tom spoke to The Mirror, with some interesting new titbits about his past, and his relationship with Lance.
When asked how it feels to be a sex symbol – he admitted it was, well, weird.
"Really weird. When people come up and say 'I've got you on my wall', I'm like [goes coy] 'oh god ermmm' And when I get old ladies coming up to me saying, 'Ooh I nearly didn't recognise you with your clothes on!' I'm like, 'Oookay, now I feel really self-conscious.'"
Tom also revealed that men send him photos of themselves in tiny briefs (just like the ones he's wearing when diving).
"I get a lot of photos of people in the shorts at Halloween, as zombie Tom Daley. They go out in trunks and a medal and a union jack.

It's quite flattering but also quite weird that they thought of me at Halloween. Am I that scary?"
Recently, Tom made some unwanted headlines after he had to admit to having cybersex with a fan, during a secret break he and Lance had in their relationship.
Now, however, Tom and Lance's marriage plans are back on track. With a 20 year age gap between the two, Tom explains that's really not an issue for him.
"The issue is, I'm way more mature than him. I'm older than my years, and he's younger, so we meet somewhere in the middle. The fact is, he can't even pick up a phone to make a restaurant reservation because he doesn't like speaking to humans!"
Lance himself kind of said the same thing recently, when he explained the exact role in their relationship.
Read Tom's full interview right here.