Tom Daley's relationships are making headlines again, as The Sun continues to meticulously document the openly gay Olympic medalist's sexual escapades.
After admitting last month that he had cybersex with a fan, Tom Daley is facing another round of rumors – this time, the UK tabloid claims that Tom had an ongoing, 18-months affair with a hunky model, while his fiancé, Dustin Lance Black, "was away".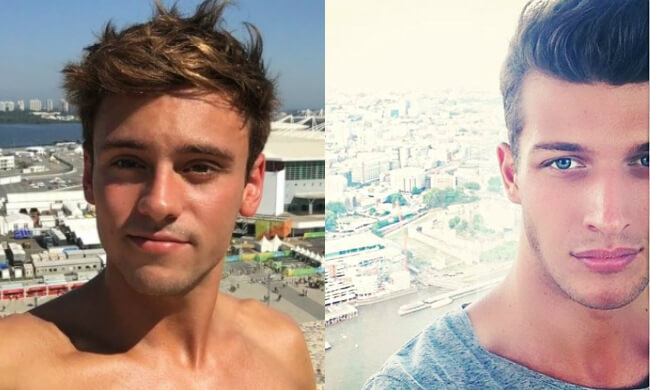 Tom and Lance got engaged back in 2015, and are currently planning their wedding, which is set to take place this year.
According to a source who spoke with The Sun, the affair started when 22-year-old Tom Daley swapped "intimate messages" with Edward William, a 27-year-old British model, after a chance meeting in the street back in 2014. The two reportedly live next to each other in London.
"Ed obviously knew who Tom was, and was single at the time", the source tells The Sun. The model was then invited to a barbecue at Tom and Lance's flat and had coffee with the pair.
Following that meeting, however, Tom allegedly invited Edward for more… "physical" encounters.
"Ed said the messages Tom sent would say things like, 'I'm home and horny, can you come round? Others would say, 'Lance is away, are you going to be about?'

Ed told [his friends] it was a purely physical relationship with not much emotion involved. He said Tom was very confident and forward with a huge sex drive.

It would always happen when Dustin was away and would be quite short-lived. They would hook up for half an hour or an hour and that would be it."
The affair has reportedly ended in 2015, and while the two have kept in touch, Edward is seeing someone else these days.
Tom Daley chose not to speak with The Sun this time around, but after the cybersex revelation last month, he had this to say:
"We don't have secrets in our relationship. We're honest and open about everything. When we were back together I told him everything. Lance and I had a period of time apart, and then coming back together and realizing we're meant for each other."