It was a historic and heartwarming moment at the Mission Viejo pool in California, when the two openly gay Olympic medalists, Tom Daley and Greg Louganis got together for a synchronous dive.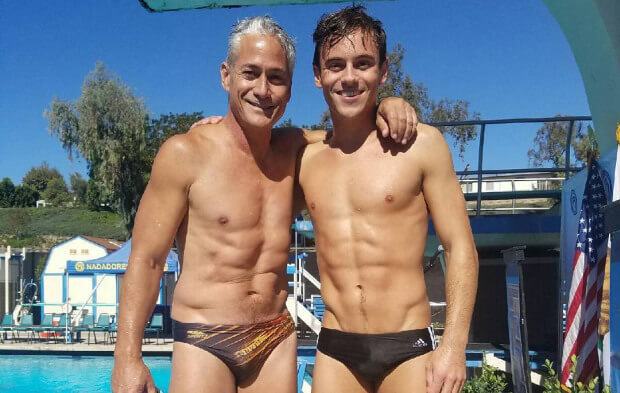 Before Tom Daley, there was Greg Louganis – the diver won gold Olympic medals at the 1984 and 1988 Olympics, and then in 1995 came out publicly as gay in an interview with Barbara Walters, where he also discussed his HIV positive status.
Tom Daley, as you probably know, is also an openly gay Olympic diver, who had won a Bronze medal at the Rio Olympics, along with Daniel Goodfellow.
Tom is touring the U.S. these days, visiting his fiancé, Dustin Lance Black. During his visit, Tom got together with Greg, in Mission Viejo, which is where Greg learned how to dive and did all of his early training.
The pool is being renovated, so this historic dive was also the last one there.
Greg Louganis' husband, Johnny Chaillot,  and Tom's husband-to-be Dustin Lance Black, were also present:
After the dive, Tom, who is 22, was asked whether he would look as hot as Greg at his age (56). "Probably not", he said – but accepted the challenge from Greg. Watch the event right here: