Many straight men are in awe of oral sex – that is, they're OK with someone ELSE (a woman) giving them a blowjob, but they can't imagine how it's actually done.
But when a straight guy with a particularly large penis wondered what it feels like for others to take his big penis in their mouth – he devises a test… and was shocked by the results.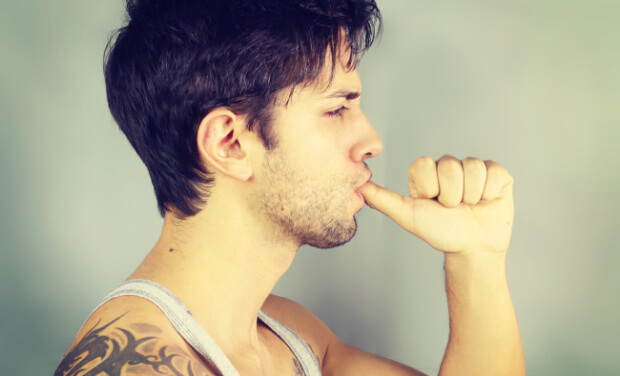 The man, who told his story in the aptly named Reddit channel "Big Dick Problems", decided to take the channel's popular "Toilet Paper Roll" test, in which you're considered big if you can't fit your penis inside a toilet paper roll.
"I know I'm way bigger than a toilet paper roll", he writes, "So I didn't give it much thought. But yesterday I bought toilet paper, and thought – 'try putting this thing in your mouth. You'll have newfound respect for your partner."
"So I was like, 'Fuck it, let's try it.' So I unrolled a full roll of toilet paper and did a few things:

Measured its girth (5″) – Tried to fit my dick in while hard (ha. not happening)
I Tried to see what it would be like to give a blowjob to a 5" girth dick.

Holy shit. I had to open my mouth almost painfully wide to just avoid having my teeth scrape this thing as I tried to insert it in my mouth. Adding tongue action and further depth was a lost cause. And that's when it hit me… I'm an inch girthier than this thing.

So, I'm kind of in awe of my wife. She can't get a whole lot in but she definitely can give me a memorable blowjob without teeth. I'm just not quite sure how she does it. I always knew that, but I didn't really appreciate it quite as much until I had a vaguely similar experience to test.
A second straight guy commented with another revelation that most gay men take for granted:
I also did the "test" recently and couldn't fit either. Then I realized that my wife likes anal sex with me a lot – at least once a week.

I could not even conceive of putting something that big up my ass. In that instance, I gained a new appreciation for my wife and our sex life.