Seeing Stephen Amell's buffed up body on the CW's Arrow, you might think there's some camera trickery in play – but once you see the way Stephen trains, you'll understand these muscles and that sculpted body are indeed very real.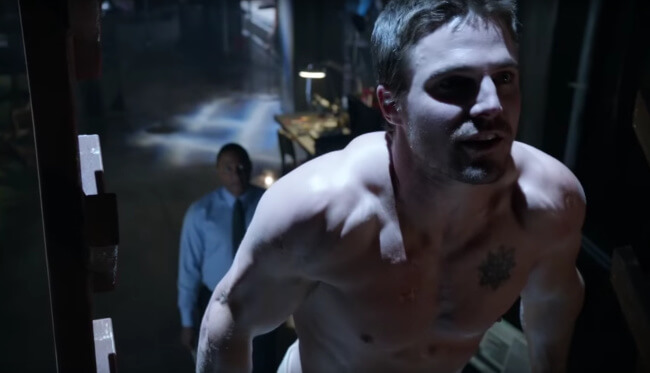 Playing a superhero who doesn't really have any super powers (and instead relies mostly on his strength, dexterity and tools), Stephen has to look the part – and he does.
This week, Stephen shared a video from the training room, in which he does… push-ups. But there's a twist – Arrow actress Emily Bett Rickards, who plays Felicity on the show, is also doing push-ups. ON TOP of Stephen.
See for yourself:
Arrow's not the only place Stephen has to show-off his training – this week, he also took part in American Ninja Warrior, a TV show where contestants attempt to complete a series of difficult obstacle courses. It looked like that:
[VIDEO] "He not only beat the course but went an extra 1 ½ obstacles beyond the finish line All for charity Arrow=Beastmode🏹"- @ZacharyLevi pic.twitter.com/zVj2mdzcfY

— Stephen Amell Daily (@AmellDaily) March 10, 2017
Want some more hard training from Stephen? There's this:

And that –
And one more:
And there's also this clip of all the training Stephen did on camera, on the first season of Arrow: