Always wanted to see Kirk and Spock kissing? It had to happen at some point, and it looks like they'll be doing a lot more than that – in a new Star Trek porn spoof coming this Halloween.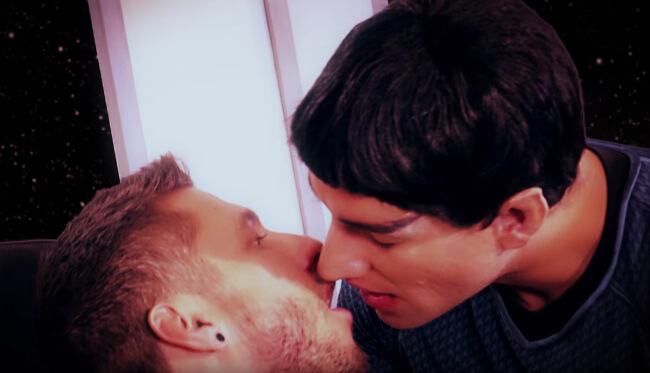 We haven't even had time to enjoy Men.com's (NSFW Link!) "The Flash" gay porn parody, and now they're back with another offering – an XXX porn version of the original Star Trek.
The movie stars Rod Peterson as Kirk, Jordan Boss as Spock, Donny Forza as Chekov, Jack Hunter as Doctor McCoy, Brendan Patrick as Scotty, Micha Brandt as Uhura (yep, Uhura is a man this time around) and Henier as Sulu.
And yes, there's a plot:
The USS Enterprise and her crew are on the brink of destruction. During the daring rescue mission, Scotty scrambles to beam up Chekov from the exploding planet while Spock and Captain Kirk bicker as usual. Once the ship hits warp speed and clears the planet's orbit, the crew celebrates the best way they know how.
It actually sounds like the plot to most of the Star Trek films – except for the getting-naked part, of course.
Watch the SFW trailer right here: