Hey, we already knew Shawn Mendes has a great body. But damn… looking at his biceps, all wrapped up in a muscle tank top, as he's arm wrestling a dude… is a whole nother level of hotness.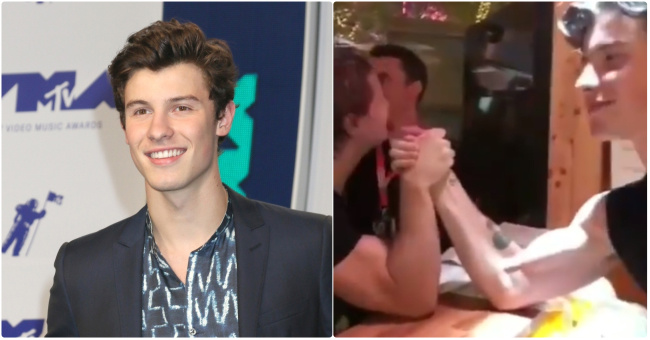 Shawn Mendes, the 20-year-old Canadian superstar, was in Budapest this week, performing at the "Sziget festival". After the show, he went for a boys night out (shortly after going with other boys to another party, where he "proposed" to his buddy).
Along with Shawn came Norwegian DJ Kygo. And with the two boys being such muscular hunks – what's better than to test those biceps with an arm wrestling session?
Thankfully, it was all filmed by fans, so we can all enjoy it:
So Shawn lost but wow these 45 seconds are something else 😳 pic.twitter.com/9NH9mOfSDm

— sm updates (@DailyMendesLife) August 13, 2018
Maybe he should add these arm wrestling matches to his concerts?