Fans of The Hunger Games series, where Sam Claflin portrayed Finnick Odair, have long imagined him doing certain deeds with either Josh Hutcherson or Liam Hemsworth (or both).
Now, having learned about the erotic fiction associated with him and the boys, Sam says he would be interested in turning all that into a film – but with the Hemsworth brothers, Liam and Chris (of Thor fame).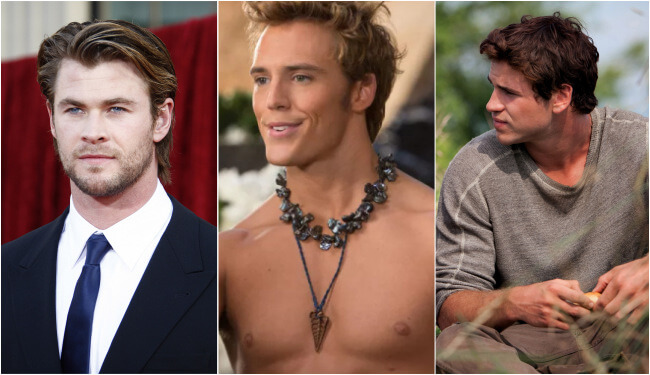 30-year-old English-born Sam Clafin, who recently spoke about body shaming in Hollywood and the need to constantly work on your body, was interviewed this time by Chris Azzopardi for PrideSource.
Having played the buffed up Finnick in The Hunger Games: Catching Fire, fans were understandably excited to see him perform CPR on Josh's character at one point. Sam later said that his mouth touching Josh's "was a beautiful moment"
Asked about his thoughts about the Hunger Games' erotic fan fiction involving him and Liam Hemsworth, Sam was immediately reminded of Fifty Shades of Grey.
"Fan fiction is one of those things I wish I knew more about. Someone was telling me that Fifty Shades of Grey was based on Twilight fan fiction. I didn't realize there was an underworld with these kind of amazingly imaginative ideas. I had no idea!

But I love Liam as much as I love – in fact, I love Chris Hemsworth. I love the entire Hemsworth family. I say we get all of us involved and we do a "Fifty Shades of Grey." We can make it reality."
Sounds like a movie we would go to see… (which is more than can be said for the oh-so-straight Fifty Shades of Grey).