Ross Lynch and his brother Rocky Lynch, the duo who together make up the band "The Driver Era", were pretty forthcoming in their recent "Never Have I Ever" video.
So much so, that we now know about their threesomes, dating each other's exes, and even having sex in the same room. That's the rocker's life for you.
Note: This article was originally published in 2018 – we're reposting it to celebrate Ross' birthday!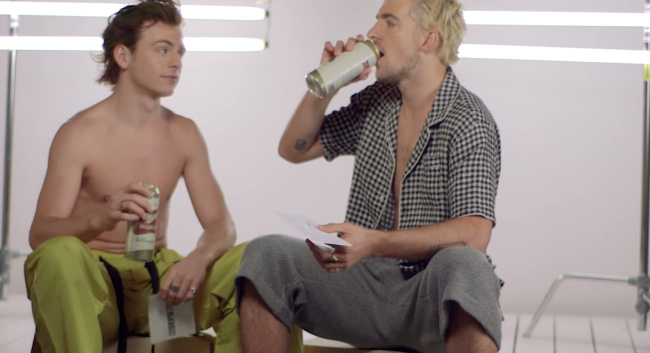 22-year-old Ross Lynch, who you might remember from Disney's Teen Beach Movie,  ditched his Disney persona last year when he played gay serial killer Jeffrey Dahmer, in the indie film My Friend Dahmer. Next, his going to star in Netflix' Sabrina The Teenage Witch reboot.
Ross was also a member of the band "R5", made up of Ross and his family members – but recently the band transformed into "The Driver Era" – made up of Ross and his brother Rocky.
Thanks to Cosmopolitan, Ross and Rocky sat down in front of the camera, with a beer in their hands, playing a "Never Have I Ever" game.
What did we learn from that game?
Both of them had sex on the tour bus, while the other brother WAS ALSO on the tour bus
They both had sex in public
Ross hooked up with his brother's EX once ("I kind of have… You know though! Puerto Rico!")
They've had sex IN THE SAME ROOM
They both had threesomes ("Manchester… Los Angeles…")
That's a whole lot of sex all over the place!
Watch the whole thing right here – and yeah, Ross' shirtless:
---
Wait! Naked Sword, "The Netflix of Gay Porn", are offering 50% off for the new year – and for the first time – on their ANNUAL plan as well. Don't miss this offer – get it here.