TV actor and singer Ryan McCartan, had to be hospitalised on Halloween, following food poisoning and issues related to his diabetes.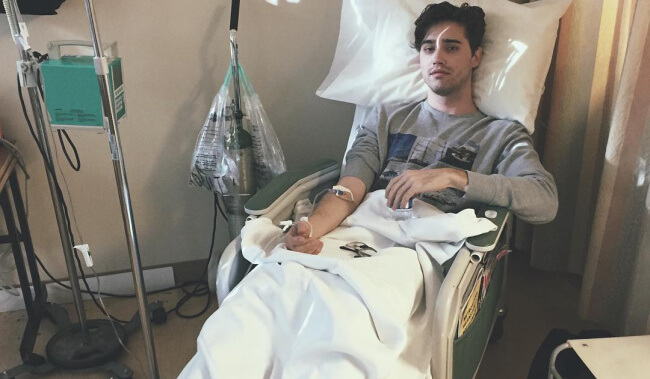 McCartan, who started as a Disney Channel star (on "Liv and Maddie"), recently took the part of "Brad" on the recent television reboot of "The Rocky Horror Picture Show".
The actor posted a photo from the hospital on his Instagram account, noting his sister, family and friends have "quite literally saved my life":
This is how I spent my Halloween after a series of food-poisoning, dehydration and diabetes-related complications… Life is precious but fragile, and boy did I get that reminder! 
Here's the original post:
https://www.instagram.com/p/BMSCLDMBG5_/?taken-by=mccarya
And that's him on happier days:
https://www.instagram.com/p/BEbFMgyABWg/?taken-by=mccarya
And as Brad:
https://www.instagram.com/p/BLbpkpeBDOV/?taken-by=mccarya